Importance of Refrigeration Seals for Caterers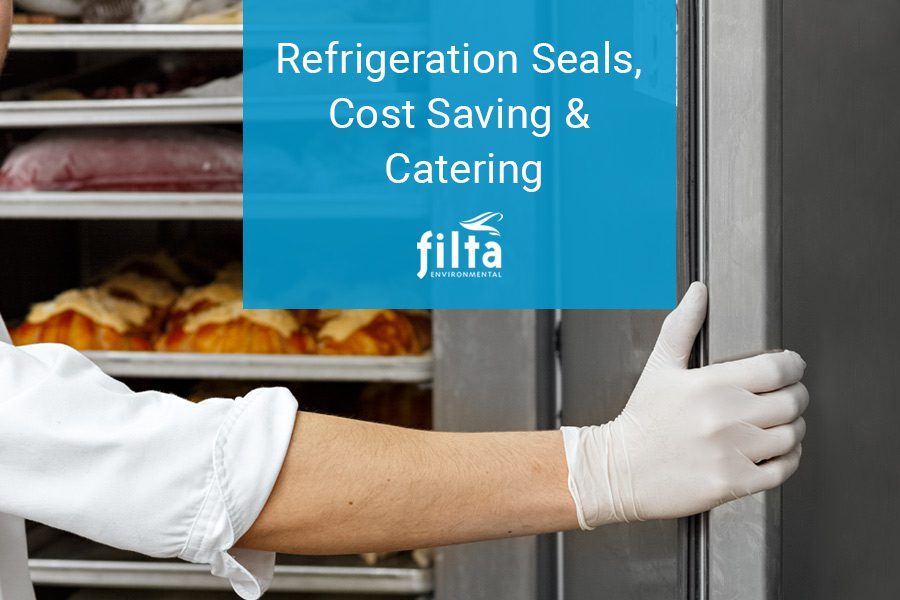 Refrigeration seals are obviously important when it comes to trying to keep cold in and heat out but this is even more true when it comes to the catering industry in the public sector. With proper investment caterers can reap the benefits of reducing energy bills and bettering their food and health and safety standards. Read on to learn more about refrigeration seals for use in the public sector.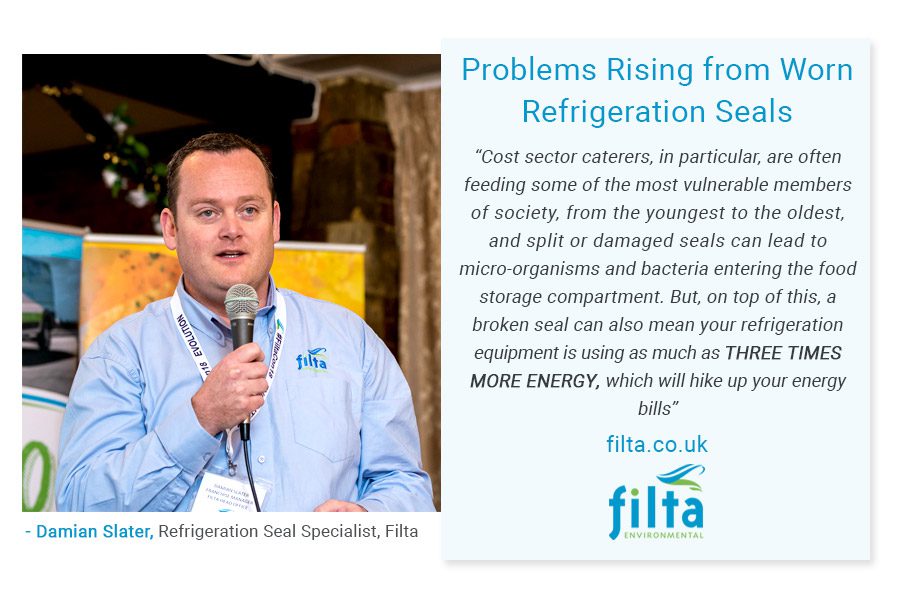 Problems Rising from Worn Refrigeration Seals
Refrigeration units are, typically, one of the most reliable pieces of equipment in a commercial kitchen, despite the fact they are generally up and running on a 24/7 basis, 365 days of the year. On average, units should last 10-15 years, but that doesn't mean they do not need any maintenance in the interim. Fridge seals, for instance, can wear out within just six months of buying new refrigeration equipment, leaving caterers open to some serious problems. Damian Slater, a refrigeration seal specialist at Filta, hightlights the issue of worn refrigeration seals, in particular for the public sector caterers.
Cost sector caterers, in particular, are often feeding some of the most vulnerable members of society, from the youngest to the oldest, and split or damaged seals can lead to micro-organisms and bacteria entering the food storage compartment. But, on top of this, a broken seal can also mean your refrigeration equipment is using as much as three times more energy, which will hike up your energy bills.
Cost Saving and Carbon Friendly
Damaged seals let cool air escape from your fridge or freezer, meaning you will be using more power to keep the stock you have at a low temperature, and when you consider that the energy used in catering facilities typically accounts for
4-6 percent of operating costs
, your bills could end up significantly higher. Additionally, caterers have never been under so much pressure to be sustainable and have an ethical approach to the environment. It's one thing getting rid of plastic straws but Eco-friendliness is multi-faceted and something as simple as replacing your fridge and freezer seals can make a huge difference to your energy use and your carbon footprint.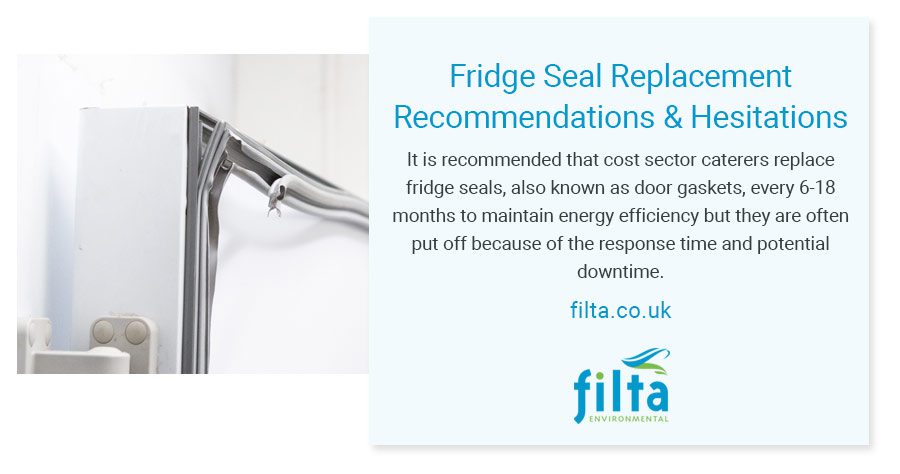 Fridge Seal Replacement Recommendations and Hesitations
It is recommended that cost sector caterers replace fridge seals, also known as door gaskets, every 6-18 months to maintain energy efficiency but they are often put off because of the response time and potential downtime. It's like any type of maintenance, it costs time and money, even if you do recoup the expense through lower energy bills eventually. Damian outlines the reasons why caterers are hesitant and how Filta have a solution to help.
"Traditionally, the process would require two visits. The first, to diagnose, measure and order the seal, the second, to fit the seal, accumulating two call-out charges. FiltaSeal is different in that our engineers come out and manufacture your seal on-site in our specialised mobile workshop, we fit it there and then, so one call-out at one fixed price with no extra charges. Estimated to be 40 percent more cost-effective than competitors on the market, it was these USPs that contributed to FiltaSeal winning FSM's Supplier Innovation Award last year."
How Do You Know A Seal Needs To Be Replaced?
But, how do cost sector caterers know when a seal needs replacing? As Damian mentions, one of the most obvious signs that it's time to replace a seal is
"When equipment runs hot, or when the fridge is not reaching temperature, often the seals are to blame"
Some telling signs that fridge seals need to be replaced include if your fridge is not staying as cold as it used to and food is spoiling faster or the door pops open repeatedly, which is usually due to a weakened seal that can no longer remain suctioned closed as it should. Before you start looking for a new fridge, caterers should check the refrigeration seal to see if it's broken and cut back on unnecessary energy usage.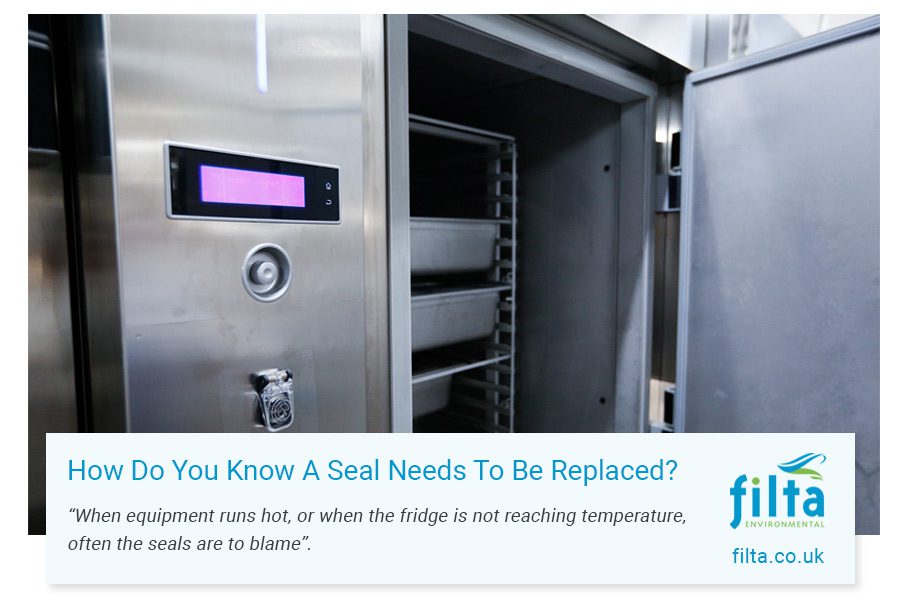 FiltaSeal Refrigeration Seal Service
Our award winning FiltaSeal can replace any make and model of seal on:
Upright fridge cabinets
Under counter chillers/freezer bottle coolers
Chest freezers
Cold drawers
Walk-in chiller cold rooms
Walk-in freezer cold rooms
Fridge and freezer door seals vary in price depending on size and model.
Refrigeration Seal Specialists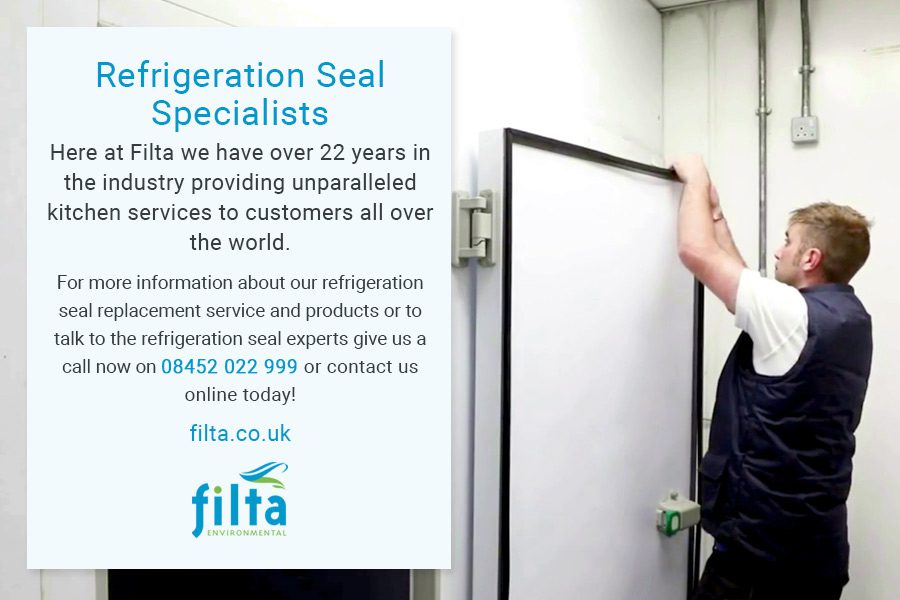 Here at Filta we have over 22 years in the industry providing unparalleled kitchen services to customers all over the world. For more information about our refrigeration seal replacement service and products or to talk to the refrigeration seal experts give us a call now on 08452 022 999 or contact us online today!