SERVICES
Grease Management
At Filta, we have been at the forefront of innovation and technology in Fats, Oils, Grease (FOG) management for over 20 years.
As a national team of FOG management experts, we are the leading choice for commercial kitchen grease traps,  grease removal units and biological drain treatment systems in the UK.
In addition to providing Filta's own leading-edge 'FOG Cyclone' technology we are also able to undertake maintenance on all and any type of grease trap, separator or grease control equipment regardless of manufacturer.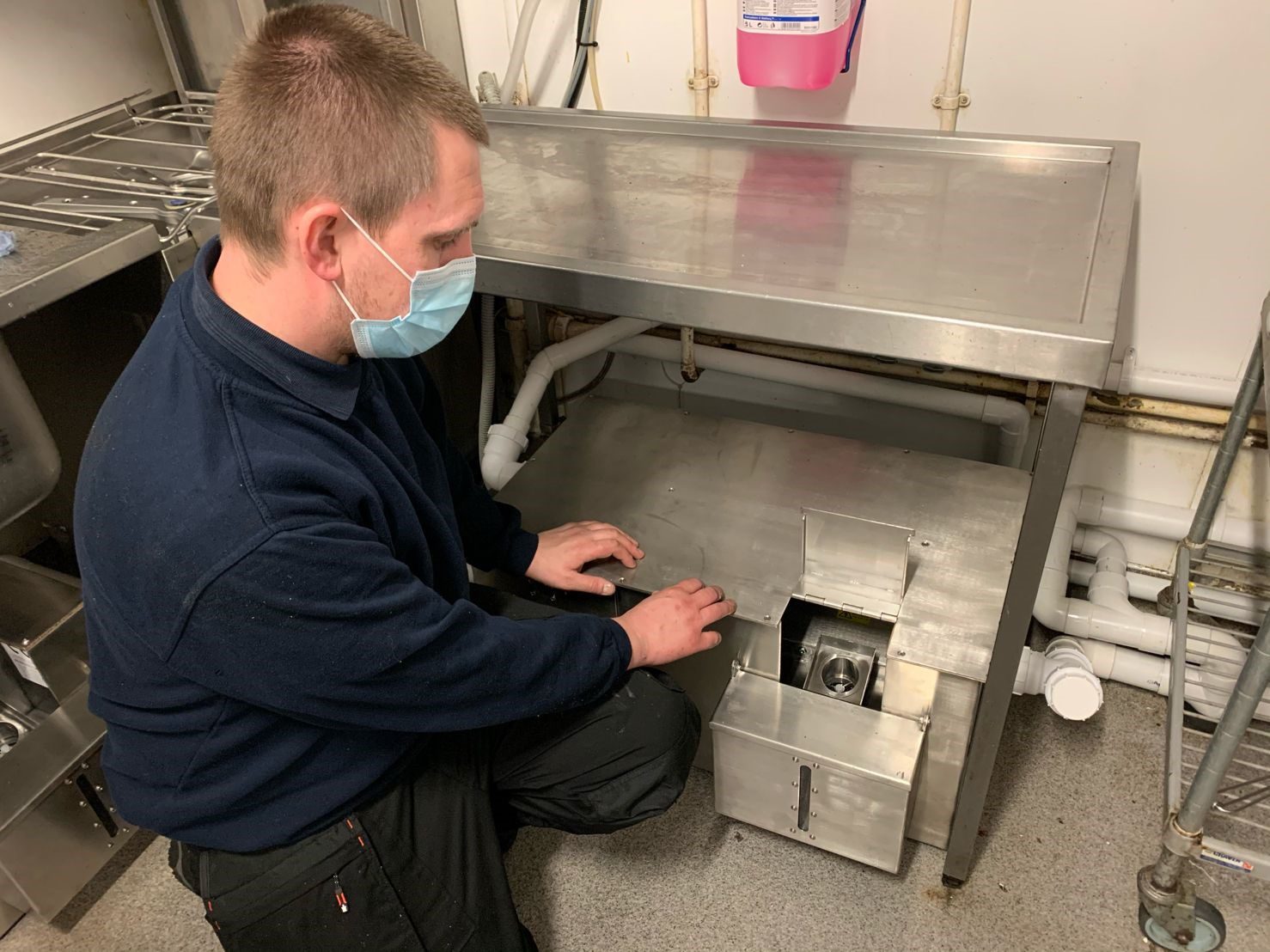 Click below to watch the patented FiltaFOG Cyclone GRU separate oil from water
We offer solutions designed to suit your specific requirements, our FOG experts will install a FOG management system that suits your specific circumstances, needs, and budget. We'll also help you determine the most effective service and maintenance schedule for your situation.
For new installations wherever possible we recommend Filta's industry-leading FiltaFOG Cyclone grease removal unit. Developed by and exclusively available through Filta, the FiltaFOG Cyclone brings together ultra-low cost of ownership with ultra-high performance. It is used by professional restaurant operators across the UK to prevent drain blockages and ensure Water Company  FOG Compliance.
We are focused on solving your grease problems and developing long-term happy customers. As well as installation we carry out service and maintenance and are on hand for any questions whenever you need. We are also happy to help you with any landlords or Water Company questions to make sure your grease management equipment is compliant and both your business and the environment is protected.
At Filta we make grease management easy.
Please call us on 01788 550100 to find out more.
3 Steps To FOG Management
At Filta we will solve your grease management problems in 3 easy steps.
Step 1 – we carry out a site survey to assess your individual grease management requirements and provide you with recommendations via a no-obligation quotation.
Step 2 – we arrange the installation of the equipment, hassle-free using our experienced and fully insured technicians.
Step 3 – we are here to provide ongoing support and maintenance as required.

Site Survey
We will survey your establishment to correctly identify your requirements.

Install
Our trained engineers will install a FOG management system to suit your needs.

Maintain
On a regular basis, we will ensure the equipment is working effectively and efficiently.
We are on the frontline fighting the battle against the fatbergs and have a range of products to help you combat fats, oils and grease and ensure that your commercial kitchen is able to run smoothly.
From bacterial dosing to large automatic grease recovery units we supply and install a comprehensive solution for your commercial kitchen needs making you instantly compliant with the wastewater regulations.
FiltaFOG Cyclone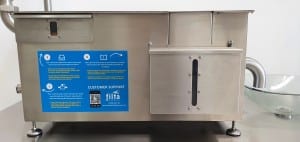 The FiltaFOG Cyclone is the World's 1st Hydro Cyclonic enhanced GRU with 8 independent Hydro Cyclones. The GM Cyclone delivers industry-leading Fats, Oils and Grease (FOG) separation whilst using less energy than traditional GRUs. Thanks to its unique design, it is nearly odour-free.
Billed as the next generation of GRUs for large catering outlets, it addresses all the concerns of existing technologies after 15 years in development, designed by engineers working directly in the field. The FiltaFOG Cyclone allows operators to meet their obligations with various added benefits.
Other Products Available
Filta provides a wide range of solutions to grease problems from innovative automatic grease recovery units to traditional grease traps and fine particle strainers.
Our FOG management team offers a crucial advantage over local competitors. We do not align ourselves with a particular product or FOG management system, therefore priding ourselves on providing a service and not just a range of products. With solutions designed to suit your requirements, our grease experts will install a FOG management system that suits your specific needs, and budget.
Contact us today to find out more about our product offering.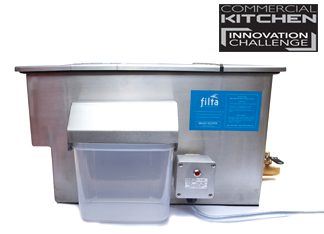 Maintenance and Support Contracts
We offer FOG management maintenance contracts to commercial kitchen owners across the country. We service all equipment, whether it was installed by Filta or by a different grease management provider. Our services cover grease traps, grease recovery units, biological dosing systems, sediment interceptors and any other FOG management solution and includes: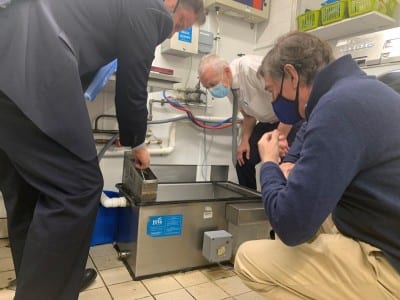 Regular maintenance is essential for FOG management systems to remain effective. Through the use of our advanced scheduling system and with regional stock depots, we deliver punctual first-class service to ensure your systems are working efficiently.
Our servicing and maintenance plan includes:
The emptying and removal of all grease waste from site.
Washing down all FOG management equipment after providing a thorough deep clean to remove any excess grease and improve performance.
If your site has a bacterial dosing unit installed, we will replenish the fluid and check the batteries to ensure the pump is dosing correctly.
Our maintenance and service call out will often be scheduled in advance, as part of an agreed maintenance programme. However, we do also offer a reactive maintenance call out for any emergencies to help keep your commercial kitchen operating whenever you need it most.
Even if we haven't supplied your FOG management system, we are happy to maintain them and because of our service volumes, are often able to do so for less than the manufacturer's service costs.
We are committed to ensuring your equipment protects your drainage for grease accumulations.
All work is accompanied by a waste transfer note to confirm the environmental disposal of waste. We also provide customers with before and after photos to demonstrate the quality of our work.
Our FOG awareness training helps guide kitchen staff towards best practices for commercial kitchen FOG disposal. FOG awareness educates kitchen staff of what not to put down the drain, helping your drains and the surrounding environment.
Our dedicated customer service team are also available to support you with any of your grease management requirements.
Contact our team on 08452 022 999.
According to research, more than 70 percent of drain blockages within a commercial kitchen are caused by the build-up of FOG generated from washing pots, pans and plates. FOG is a composition of saturated fats (meat, dairy, eggs) unsaturated fats (olive, peanut, sunflower oil) and food waste. Approximately 15ml of FOG enters the waste stream for each plate of food. This means that for every 100 plates 1.5litres of FOG enters the waste stream.
Fat, Oil and Grease (FOG) does not just cause problems in local drainage systems – it causes major issues for sewer networks.
The reduced capacity of the network caused by FOG accumulations can lead to surcharges where sewers are forced to 'overflow' into rivers, streams and beaches. Many major utilities have set up task forces to address the problem and are adopting a 'polluter' pays principle.
Fat, oil and grease cost the UK Water industry an estimated £15M per year (Source – Anglian Water).

Anglian Water estimate that 10,000 tonnes of fat, oil and grease enter the drainage system each year alone – reducing the sewer capacity by up to 10% (Source – Anglian Water).

The Environment Agency estimate 75% of sewer blockages are caused by a build-up of FOG (Source – Environment Agency).

The Environment Agency estimate that Sewer Blockages account for over 100,000 environmental incidents each year. (Source – Environment Agency.

Thames Water reported that in 2007/2008 over 60,500 sewer blockages reported were caused in part by FOG. (Source – Environment Agency).

Severn Trent Water clears around 50,000 blockages a year and fat contributes to the majority of those as it binds together all of the other things that end up in the sewer rather than the bin and creates huge lumps which block the sewers.

Over 10 million tonnes of food and drink waste is produced each year in the UK.
When running a commercial kitchen, we understand the importance of compliance to legislation in order to run your business as effectively as possible. With our team of FOG management and drainage experts, you can rest assured that legislation will be followed correctly whilst you are provided with a service of the very highest standard.
WASTE LEGISLATION
There are 6 laws and regulations governing the disposal of food waste fat, oil and grease and preventing it from entering
drains and sewers. Failure to adhere to these can lead to enforcement and prosecution. For more info check out info about FOG legislation here
To ensure that your commercial kitchen abides by the correct waste legislation and that your establishment is able to deal with grease and oils appropriately, we offer a comprehensive solution that can be tailored to the needs of your business.
Our team of grease management experts have put together a list of tips and best practices for correctly managing FOG:
1. Pre-Wash
Dry wipe and clean excess food off cookware and plates before washing them and dispose of food waste with other solid waste. This will greatly reduce the amount of FOG going into your grease management solution and ensure it functions more effectively.
2. Use A Waste Food Strainer
Food debris can quickly build up in the drains restricting the wastewater flow. By using a waste food strainer, you can prevent even small grains of rice entering the drain. Food collected in the strainer must then be emptied into a rubbish bin.
3. Schedule Regular Maintenance
Make sure that your grease management equipment is regularly checked and maintained according to the operating instructions. Certain products require daily or weekly actions to be carried out by staff in addition to the routine servicing by our grease management specialists.
4. Keep A Record Of FOG Management
It is important to keep a log of all grease management maintenance and routine actions by staff, problems encountered, and work carried out by professionals as this will help you fine tune your grease management processes and optimise your service intervals.
5. Arrange For Waste Contractor To Collect Recycled Oil
If your kitchen has an automation grease recovery unit (GRU) installed, it is vital that your employees are using it correctly. Never tip the waste oil collected in the oil cassette back down the drain. Instead the waste oil captured by the grease management system should be stored in a separate container or drum and arranged to be collected by a waste oil contractor. Certain GRU's such as the GreaseMaster, has very minimal water content and is suitable for use in the production of biodiesel, making it a very sustainable solution.
Find out all you need to know about our FOG management in our frequently asked questions.
For more information about our FOG management services, products and legislation, take a look at our resources and product PDF downloads.
"I have utilised the services of Filta for over eight years. I have found them to be professional in all that they undertake, their in depth knowledge is invaluableand they are always prepared to take ownership and responsibility for anything they are asked to do. Filta's knowledge and ability is in my experience and opinion second to none. I would have no hesitation in using Filta for future work and would not hesitate in recommending their use to others."
"I would recommend Filta to anyone who has problems with fats, oils and grease in the drains and want to make their site compliant with all regulations at very short notice."