The February Press Round Up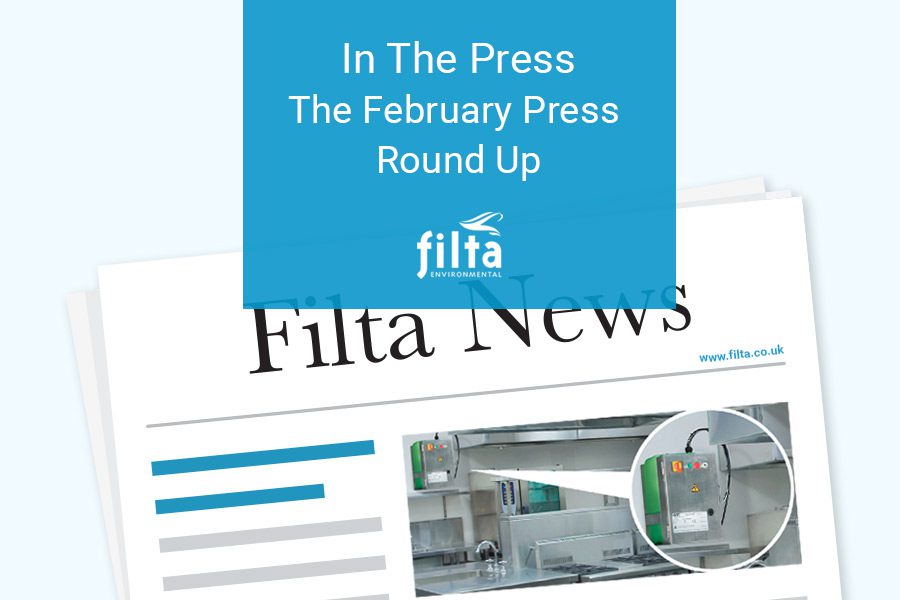 Read all about the latest in Filta Environmental news in our February press round up which features the launch of a new service, a real-life case study with input from both the end-user and distributor and the arrival of a new recruit – all of which featured in leading industry-related press. Thanks to the publications who covered our news and now lets jump in!
Catering Insight – Filta Unveils Automated Extraction Cleaning System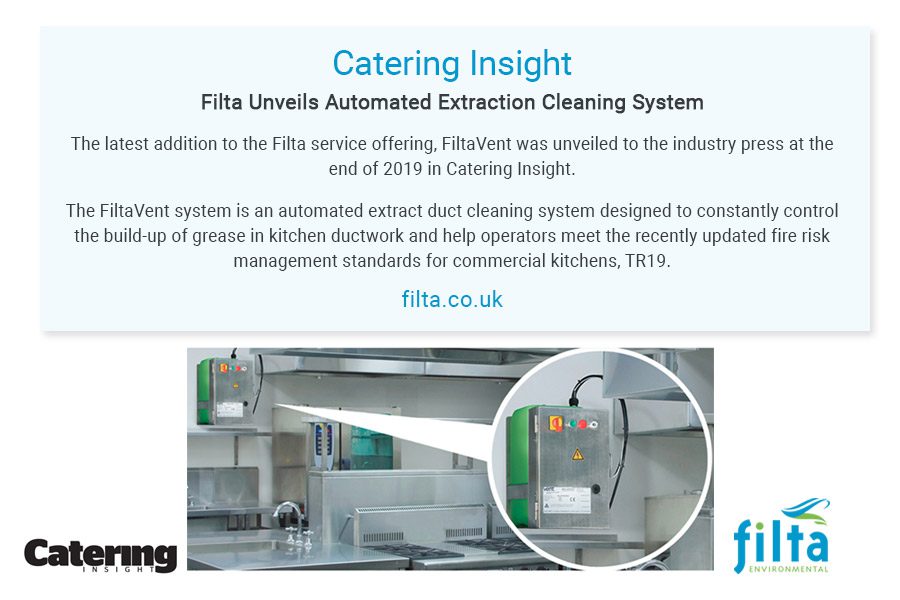 The latest addition to the Filta service offering, FiltaVent was unveiled to the industry press at the end of 2019 in
Catering Insight
. The FiltaVent system is an automated extract
duct cleaning system
designed to constantly control the build-up of grease in kitchen ductwork and help operators meet the recently updated
fire risk management standards for commercial kitchens, TR19
.
The system itself works by regularly spraying biological enzymes directly into the kitchen ventilation system through specially designed and installed nozzles. Unlike manual duct-cleaning services, the enzymes can target all corners and inaccessible areas of the ductwork which are often missed or avoided.
The FiltaVent official service video, above, also premiered on the Foodservice Equipment Journal: FEJ TV. In the video McDonald's franchisees explain how the system has benefited their kitchen operations.
Catering Insight – Dentons and Filta Team Up to De-FOG Franco Manca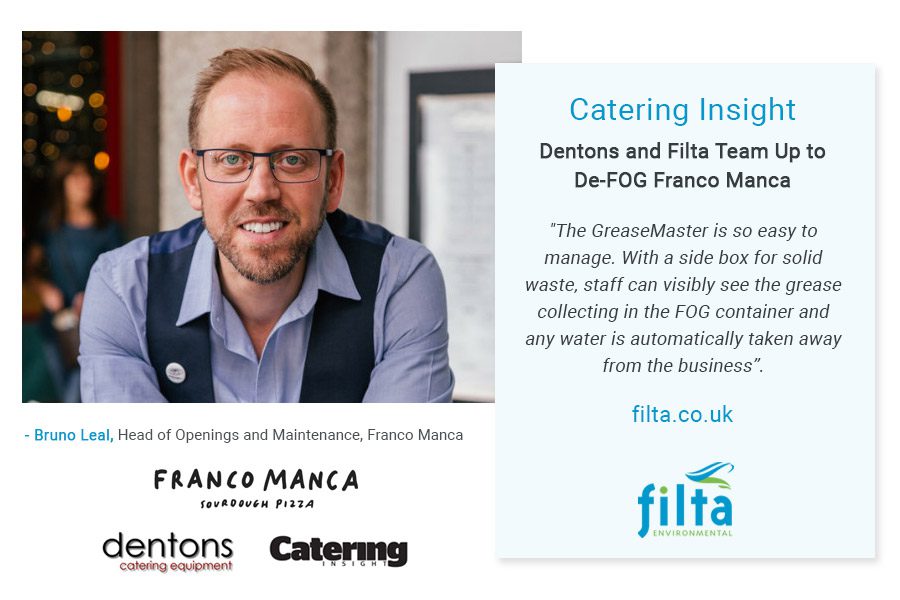 Catering distributor,
Dentons
, teamed up with us to install a series of our top performing GreaseMaster
grease recovery units
for the sourdough pizza chain, Franco Manca.
The Franco Manca case study details that as Franco Manca started to expand outside of London, we helped them to fit grease management systems at the restaurants brand new sites across Oxford, Leeds, Birmingham, Manchester, Exeter and Edinburgh.
Peter Nunn, director of Dentons said:
"Having worked with Filta on previous projects, both large and small, I had no hesitation in recommending their solution. The GreaseMaster is simple to maintain, yet a robust unit that we can install with ease for our customers. A big advantage is the simplicity of the operation process, a brief demonstration or handover is all that is really needed to get them up and running".
Head of openings and maintenance at Franco Manca, Bruno Leal explained:
Good practice aside, we know first-hand the repercussions of drain blockages on a business. Only last year, a neighbouring catering operation with no grease management system in place caused the manholes to overflow and we had to close the kitchen. The GreaseMaster is so easy to manage. With a side box for solid waste, staff can visibly see the grease collecting in the FOG container and any water is automatically taken away from the business".
Foodservice Equipment Journal – A New Grease Management Specialist Hire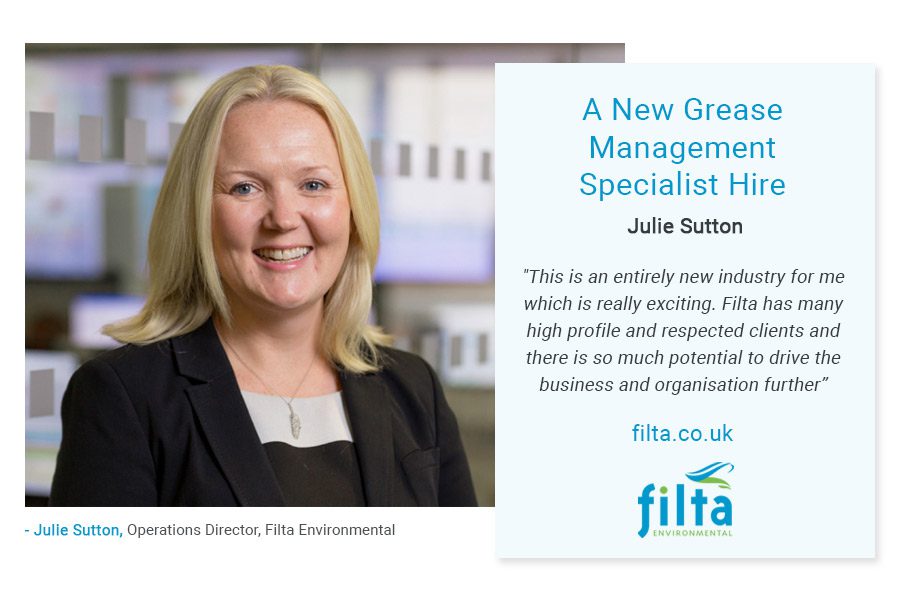 We are delighted to announce a new operations director, Julie Sutton, who has nearly 20 years' experience in implementing processes and practices to make businesses and organisations work even better. Julie will be responsible for ensuring excellent customer service while developing key strategic contracts and forging strong relationships with clients. Her arrival was featured in the
FoodService Equipment Journal
and about joining the team Julie said:
"This is an entirely new industry for me which is really exciting. Filta has many high profile and respected clients and there is so much potential to drive the business and organisation further"
Filta Managing Director, Edward Palin said:
"Julie has many years of expertise in operations and managing large teams across a wide geographic area. We have grown exponentially as a company and her skills and know-how will be absolutely invaluable in taking Filta into the next era".
Commercial Kitchen Specialists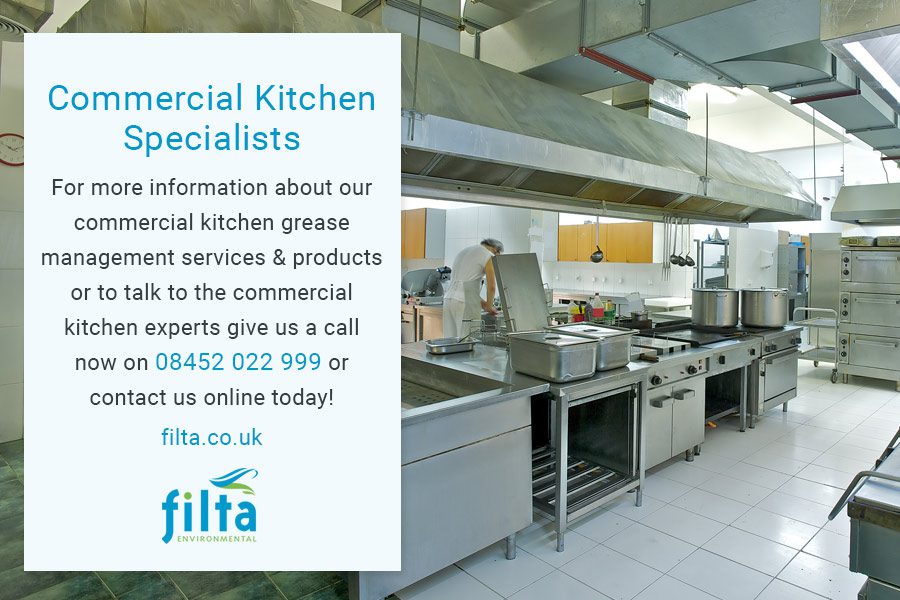 And so that ends the press recap for February but for more information about our
commercial kitchen grease management services
 and products or to talk to the commercial kitchen experts give us a call now on
08452 022 999
 or
contact us online
today!