TR19 Compliance with Automated Extraction Cleaning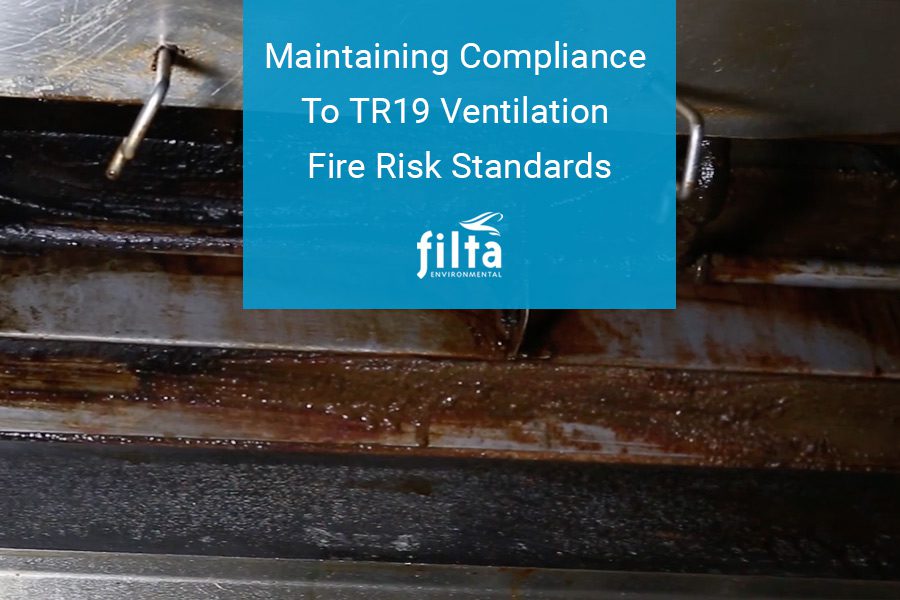 With increased awareness around the importance of complying with TR19 Fire Risk Standards and ensuring that your kitchen is safe we are delighted to unveil our new automated extraction cleaning system to help operators meet the new increased fire risk management standards for commercial kitchens. The automated extraction cleaning system works around the clock with flexible, pre-programmable automatic dosing. This means operators are continually compliant with the standards in comparison to a quarterly deep clean of the ductwork where the operator is only as compliant as their last deep-clean.

The automated extraction system from Filta allows you to keep your commercial kitchen compliant with TR19 standards
Ductwork Quarterly Clean vs Automated Extraction
A quarterly deep clean of the ductwork can put you at risk of failing to meet the recently updated
TR19 health and safety standard
from the Building Engineering Services Association (BESA), which relates to grease accumulation within kitchen extraction systems. By having the automated extraction system, installed by Filta Group's trained technicians, you can significantly reduce the accumulation of
fats, oils and grease (FOG)
in your extraction system. An added bonus of being compliant with TR19 standards is that you can also make cost savings on outside cleaning and maintenance services which also means less downtime.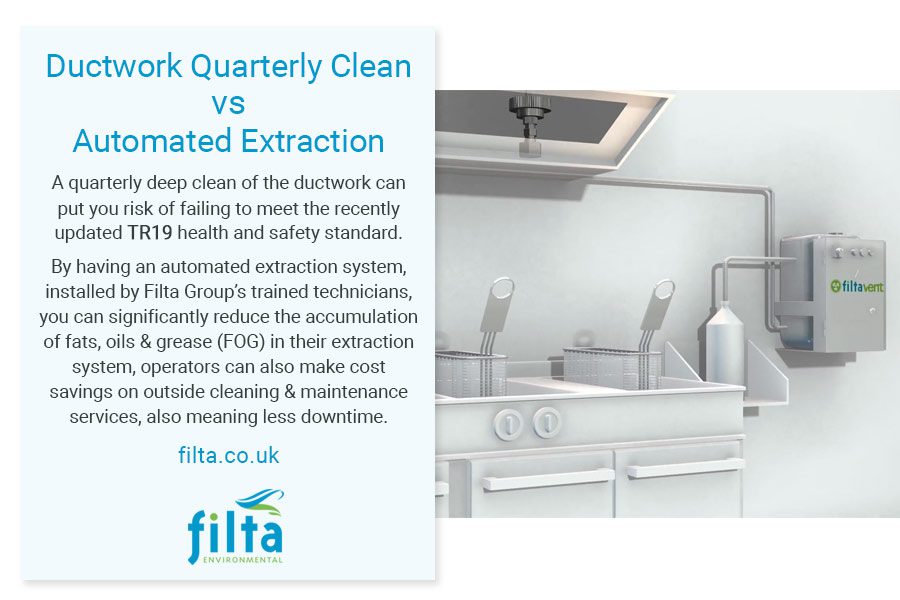 A "Must Have" For Commercial Kitchens
Lee Shelton of the Filta Group said the automated extraction system is a must-have in a commercial kitchen, especially given the recent revisions to the TR19 standard.
"Driven by the need for legislation to reflect new British and European standards and best practice, the TR19 rules have become more stringent when it comes to extraction cleaning in a bid to prevent the event of fire. By installing the Filta system, you can rely on continually clean ductwork to greatly reduce this risk, keeping you and your systems operational, compliant and safe from prosecution."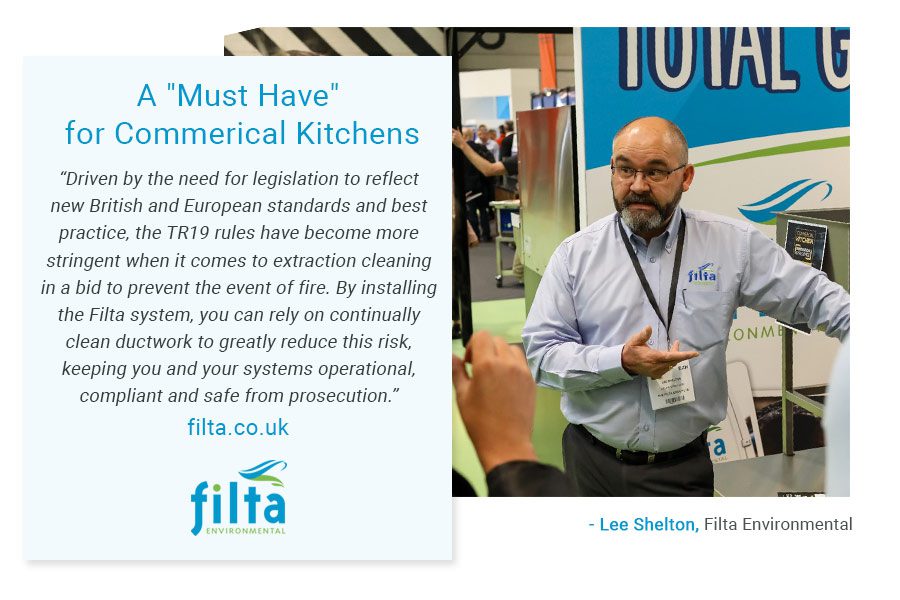 TR19 Compliance With Automated Extraction Cleaning
The automated extraction system itself works by spraying biological enzymes directly into the ventilation system with special nozzles. These enzymes are able to target all corners and inaccessible areas of the ductwork, unlike manual cleaning, where areas are often missed, avoided or simply inaccessible. This greatly aids with TR19 compliance. And, by reducing the accumulation of FOG, kitchen extraction systems also operate at their full potential, meaning less bad odours coming from the kitchen and happier customers.
Maintaining Your TR19 Compliance
As well as installation of the automated extraction system we can provide you with a bespoke service plan to ensure your kitchen extraction systems are maintained to TR19 standard, 365 days a year. We're committed to helping commercial kitchens fight back against unruly grease and if you want to see how much you're
spending on duct cleaning every year use our calculator
now to see how much you could save by having an automated extraction cleaning.
TR19 Compliance for Commercial Kitchens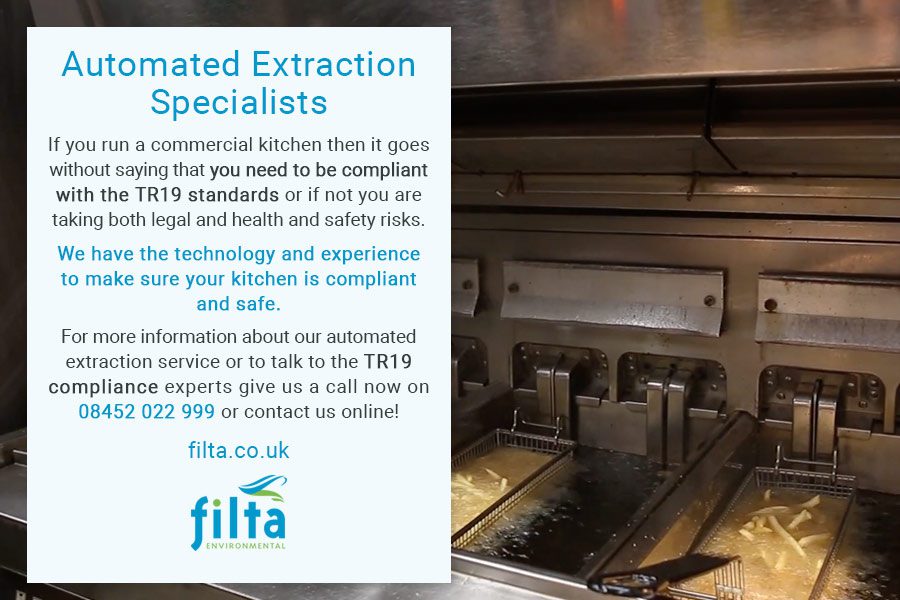 If you run a commercial kitchen then it goes without saying that you need to be compliant with the TR19 standards or if not you are taking both legal and health and safety risks. We have the technology and experience to make sure your kitchen is compliant and safe. For more information about our
automated extraction service
 or to talk to the TR19 compliance experts give us a call now on
08452 022 999
 or
contact us online
!