Duct Cleaning With TR19 Compliance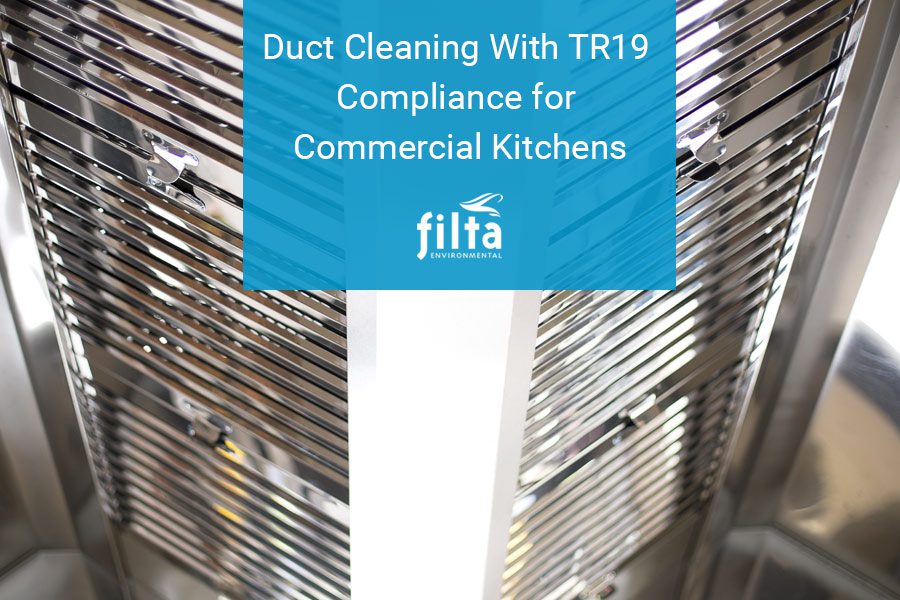 As your kitchen staff fry and cook the meals your customers enjoy, there's a rising problem hidden away above their heads. This silent danger increases by the day and whilst it might be out of sight, it shouldn't be out of mind. Duct cleaning and ensuring compliance with TR19 specification is key for commercial kitchens. In this post we'll outline the issues commercial kitchens face and how you can keep your ducts clean.
Fire Risks with Dirty Ducts
Cooking in commercial kitchens generates airborne grease which condenses on the inner walls of kitchen extract duct work. This then accumulates meal after meal, day after day creating an ever-looming fire risk. If regular deep cleans of the
ventilation system
are not carried out, then all it could take is a single flame from the fryers to ignite the grease causing fire to quickly spread throughout your entire ventilation system.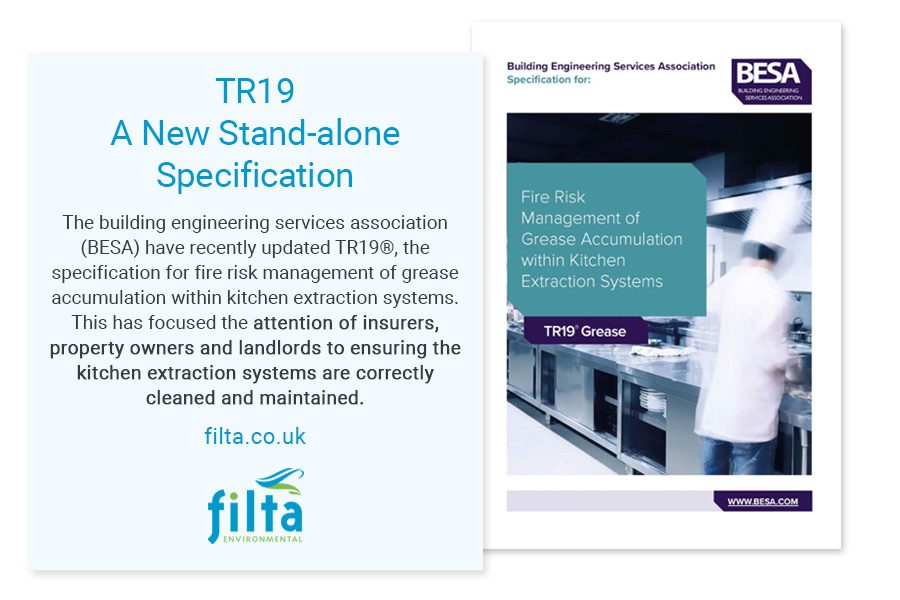 TR19 – A New Stand-alone Specification
The building engineering services association (BESA) have recently updated
TR19®
, the specification for fire risk management of grease accumulation within kitchen extraction systems. Commercial kitchens have grown in number over recent years and fires within premises involving commercial kitchen extract systems is also on the rise. This has focused the attention of insurers, property owners and landlords to ensuring the
kitchen extraction systems
are correctly cleaned and maintained. BESA now expects caterers to be far more vigilant and if they don't, they increase their risk of prosecution.
The Wet Film Thickness Test
Professional duct cleaning companies are now expected to take a wet film thickness test to verify the cleanliness of kitchen extract systems against TR19 compliance. This involves scraping a comb-like gauge across several sections of the ductwork to measure the grease build up within the extract system.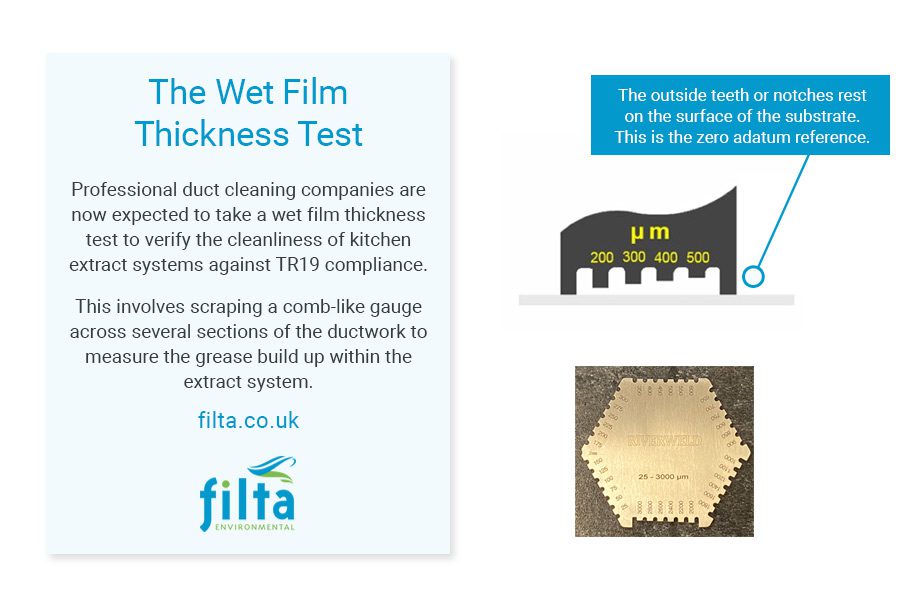 BESA TR19 Standards Requirements
Under 200μm (as a mean across the system): compliant
Over 200μm: complete cleaning required
Any single measurement over 500μm: Urgent cleaning required
Manual Duct Deep Clean vs Automated System
You could pay for a deep clean of the extract system every few months but do you really know how long it takes for grease levels to accumulate back above the 200μm compliance zone? How long does your ductwork remain a low fire-risk post clean? The grease in your extract system begins to build up from the day after your deep clean and so does the risk of fire. Can you really afford to take the risk of not constantly being compliant with the standards?
The New FiltaVent Duct Cleaning System
The new FiltaVent
duct cleaning system
cleans daily, constantly controls grease build up, reducing fire and improving compliance. The system is activated to spray for 15 seconds by a pre-programmable timer which then sprays a light mist of biological enzymes directly into the ductwork system. The enzymes are then drawn up the extraction by the extract fan cleaning grease from the hood, flue and fan. Our ductwork cleaning system works with you to meet your individual needs depending on your cooking frequency, usage, infrastructure and cuisine. The system can also save you money on operational and compliance costs – there is no need to organise professional duct cleans throughout the year or to stop kitchen operation.
TR19 Compliance for Commercial Kitchens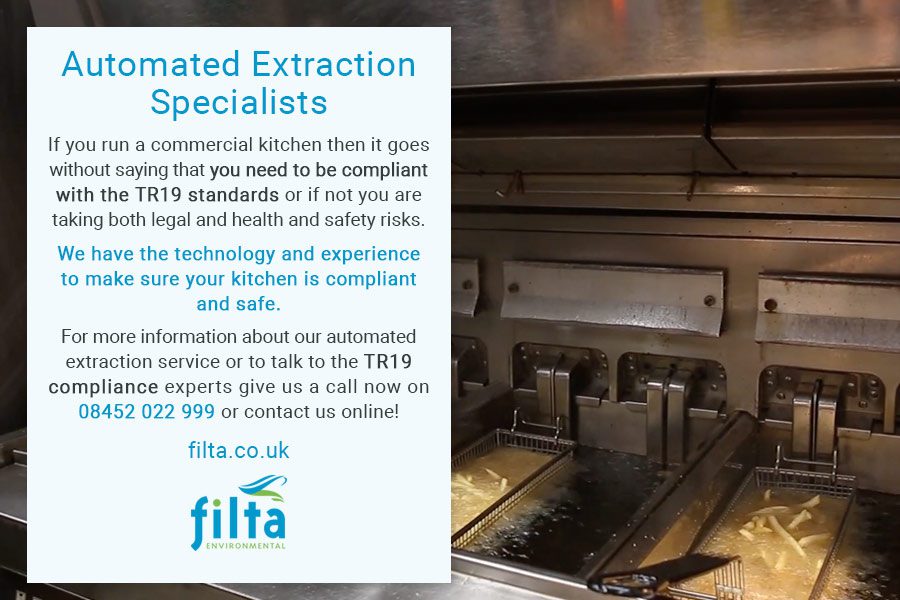 If you run a commercial kitchen then it goes without saying that you need to be compliant with the TR19 standards or if not you are taking both legal and health and safety risks. We have the technology and experience to make sure your kitchen is compliant and safe. For more information about our
automated extraction service
 or to talk to the TR19 compliance experts give us a call now on
08452 022 999
 or
contact us online
!