Commercial Kitchen Duct Cleaning Services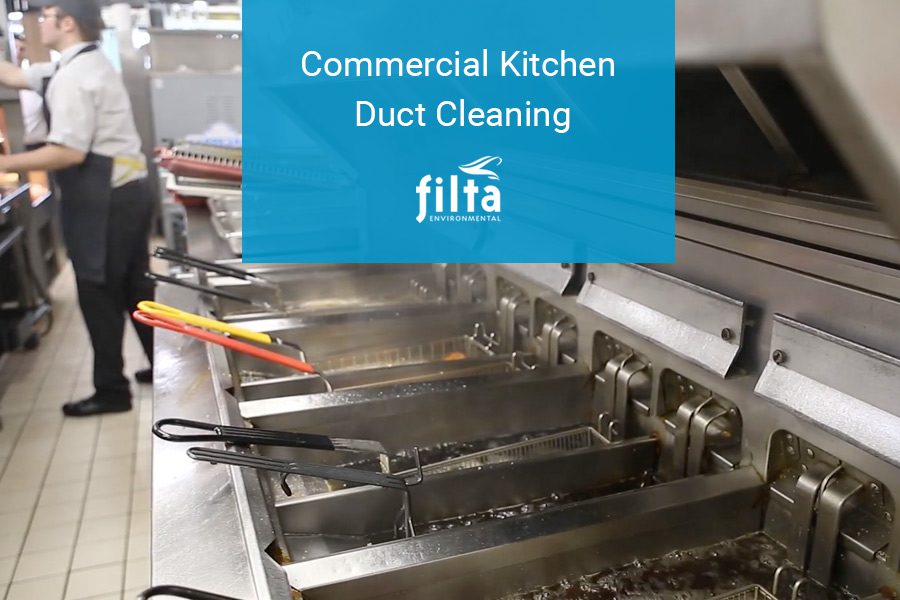 If you are running a commercial kitchen you will know the importance of keeping all of your kitchen ducts clean. Kitchen ducts serve an important role in the kitchen, ensuring that airborne grease fumes, smoke, heat and steam from the kitchen are safely removed to ensure a clean and healthy kitchen environment. Moreover, given the introduction of the TR19 fire risk standard the necessity to ensure commercial kitchen ducts are clean and compliant has never been more critical. When it comes to commercial kitchen duct cleaning there are two real options available to you – manual duct cleaning or automated extraction duct cleaning and in this post we'll compare the two, read on!
Not Like Conventional Duct Cleaning
Unlike all the conventional commercial kitchen duct cleaning methods, the Filta system is not a service that is turned on periodically such as every quarter to clean up dirty ductwork. Instead, the Filta system works continually around the clock, 365 days a year as a preventative system to control the build up of grease from the outset.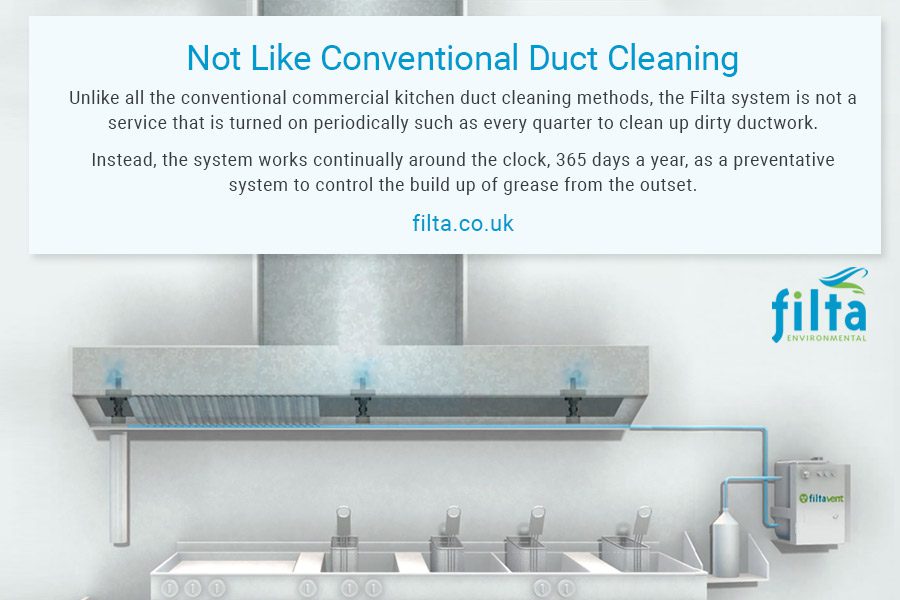 Continuous Fire Risk Reduction
Through the use of specially designed nozzles the system ensures the entire kitchen extract is kept clean and grease-free, including all the hard to reach places and inaccessible areas. This is achieved by spraying a list mist of Filta liquid along the ductwork, literally on top of the grease. Unlike manual commercial kitchen duct cleaning, the Filta system uniquely offers continuous fire risk reduction, a key advantage in comparison to traditional duct cleaning methods. It is therefore able to meet the required TR19 standards every hour of every day.
Ongoing TR19 Compliance
As shown in the graph below, traditional manual duct cleaning is only able to minimise fire risks and meet the standards immediately after the deep duct clean has been carried out. The risk of fire and non-compliance then increases every day until your next manual duct clean. The Filta system provides you with continually minimised fire risk and ongoing TR19 compliance.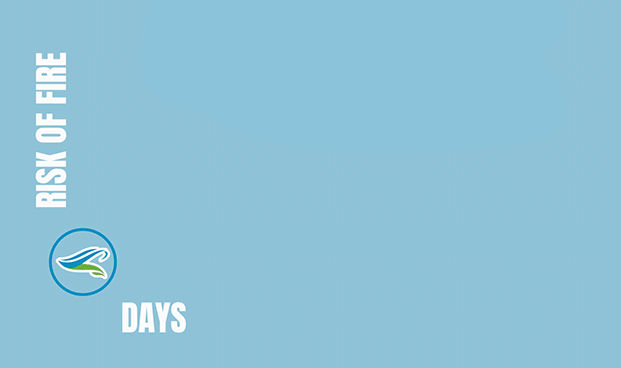 Commercial Kitchen Duct Cleaning Installation
The commercial kitchen duct cleaning system is installed in a matter of hours by a Filta trained engineer. The team then works with you and your kitchen staff to create a bespoke post-installation commercial kitchen duct cleaning service plan. This includes periodical inspections that test the entire route of the kitchen extract system to make sure it is grease-free and compliant against TR19.
Duct Cleaning For Less Than A Coffee A Day!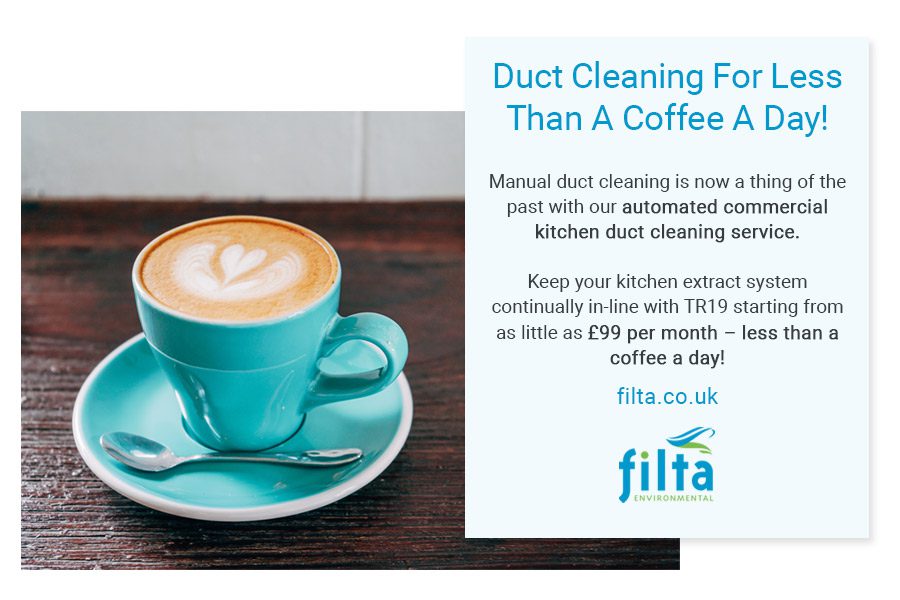 Manual duct cleaning is now a thing of the past with our automated commercial kitchen duct cleaning service. Keep your kitchen extract system continually in-line with TR19 starting from as little as £99 per month – less than a coffee a day.
Commercial Kitchen Duct Cleaning Services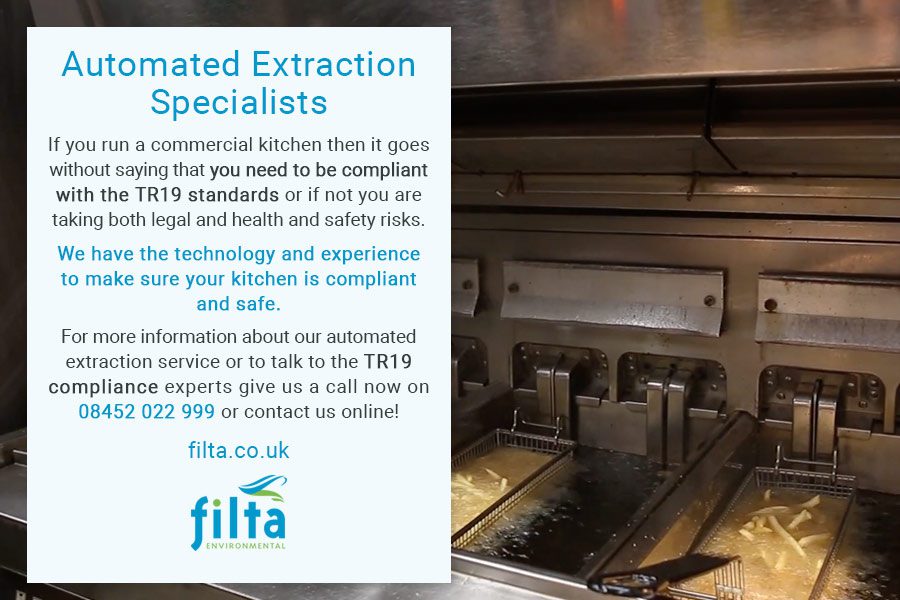 If you run a commercial kitchen then it goes without saying that you need to be compliant with the TR19 standards or if not you are taking both legal and health and safety risks. We have the technology and experience to make sure your kitchen is compliant and safe. For more information about our
automated extraction service
 or to talk to the TR19 compliance experts give us a call now on
08452 022 999
 or
contact us online
!