Go Further In Reducing Food Waste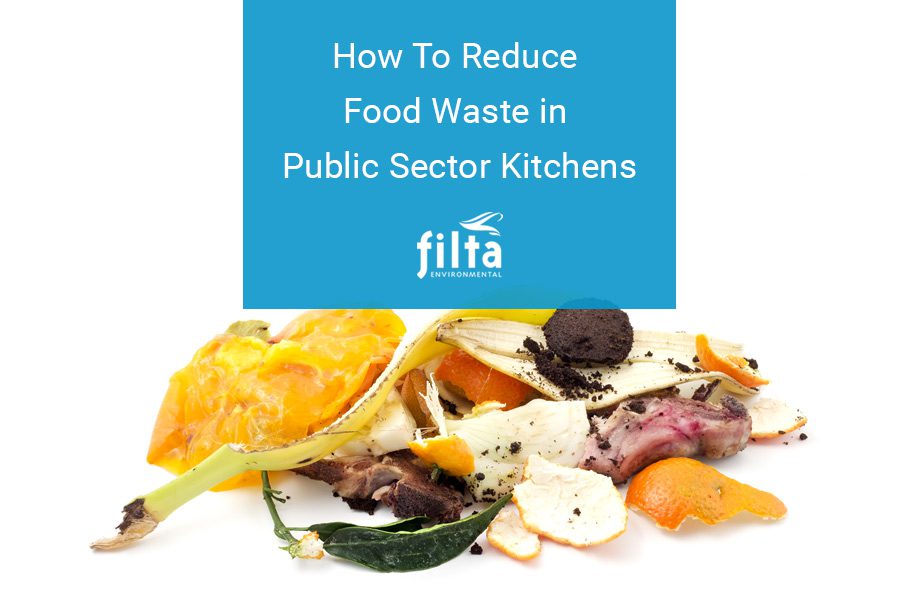 Getting rid of food and packaging waste is a major cost to catering operations, so how can you best cut back on the amount you generate? Here we look at some examples of how to reduce food waste in public sector kitchens.
3.4 Million Tonnes of Food Waste
Lee Shelton, a leading Filta specialist in innovative
grease management systems
for the food service industry, said:
"Around 3.4 million tonnes of waste is disposed of in the food sector every year, according to waste prevention organisation WRAP, and the pressure is on to reduce this to meet international targets on climate change and obligations to reduce biodegradable waste going to landfill and end the global crisis that leaves millions starving and impoverished.
In terms of financial implications, it is estimated that this staggering amount of food and drink waste equates to over £5.1 billion, so environmental and ethical reasons aside, reducing waste means the potential to make significant cost savings at a time when public sector caterers, in particular, are feeling the squeeze. If you can make measures to bring down your food waste, using all cuts of meat, storing food in the right places to keep it fresher for longer and composting, that's great and will help you make relatively easy cost savings. However, you do also need to consider how you are going to tackle the bi-products of your food, namely the fat, oils and grease (FOG) primarily produced in cooking. This waste is not only proving to be deadly for the environment, but is costing caterers more and more money, with some restaurants even receiving convictions for fatbergs.
FOG Regulations – Water Industry Act (1999)
Under the Water Industry Act (1999), there are
regulations governing the disposal of FOG
and preventing it from entering drains and sewers and we are seeing more and more instances of prosecutions and steep fines for complacency in this area. Not just from health and safety inspectors, but from water companies striving to keep the sewer system clear. On top of this, emergency call-outs and having to
descale the pipework
can set you back thousands of pounds and there is the ripple effect of toilet and bathroom sinks being blocked – a hygiene no-no in public sector catering – to consider. Downtime also has a financial consequence, as well as an impact on the ability of your staff to perform their normal duties. The other issue with bad FOG managment, as Lee Shelton points out:
On top of all this, drains choked with fat, oils and grease are a haven for pests such as flies and rodents, not mentioning the rancid odour.
Highly effective waste management has to be an integral part of any public sector kitchen operation, to protect your reputation, the environment, your budget and your legal obligations, and the good news is there is now technology out there that can make this painless.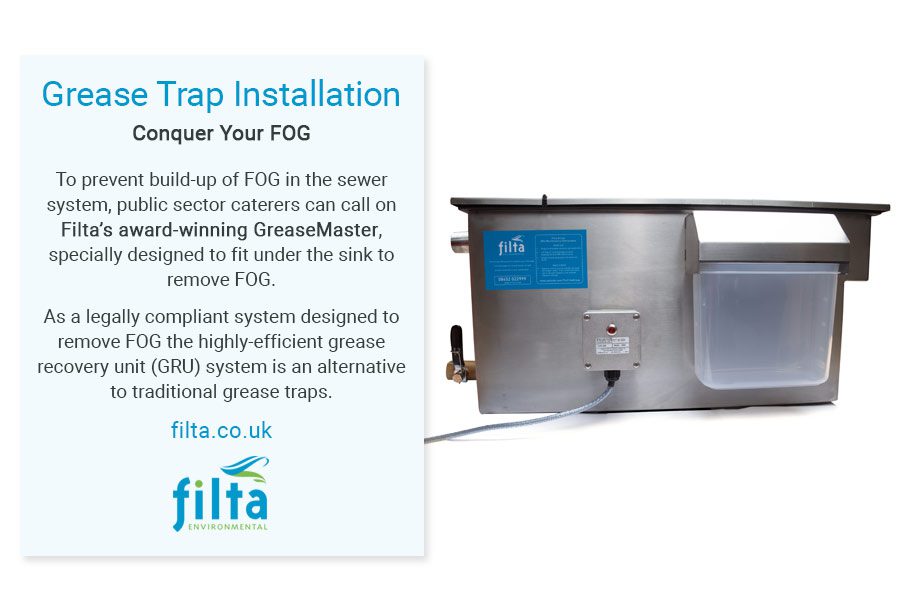 Grease Trap Installation – Conquer Your FOG
To prevent build-up of FOG in the sewer system, public sector caterers can call on Filta's
award-winning GreaseMaster
, specially designed to fit under the sink to remove FOG. As a legally compliant system designed to fit under the sink to remove FOG from sinks, dishwashers, rotisserie ovens and combi-ovens in real-time before it gets to the drains, the highly-efficient grease recovery unit (GRU) system is an alternative to traditional grease traps, which are not always large enough to be effective, need constant monitoring to ensure they are not overloaded and whose contaminants are difficult to recycle, having to be disposed of by a licensed waste carrier.
Easy Food Waste Reduction
Super easy for kitchen staff to manage, you can very visibly see the grease build-up in the FOG container and any water is automatically taken away from the business. There are also no moving parts, making it easy to clean in just a few minutes with no costly repairs. Its robust stainless steel casing means there is less potential for damage. Significantly reducing the amount of grease collecting in a foodservice operator's on-site pumping stations in a world increasingly looking to be sustainable, FOG collected from the grease recovery unit also has very minimal water content and is, therefore, also suitable for use in the production of biodiesel.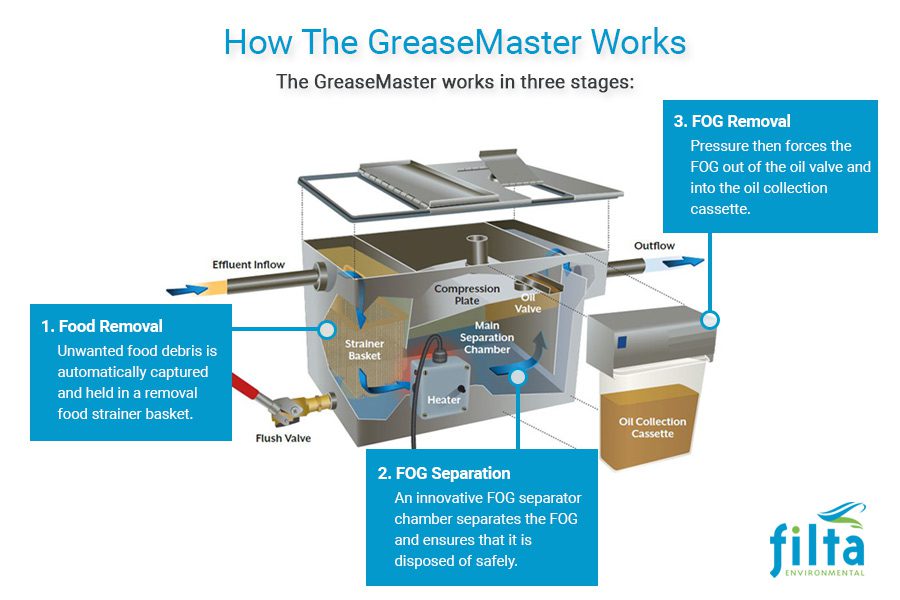 How The GreaseMaster Works
The GreaseMaster works in three stages:
Food Removal – Unwanted food debris is automatically captured and held in a removal food strainer basket, keeping the GreaseMaster clean and easy to use for a kitchen team.
FOG Separation – An innovative FOG separator chamber separates the FOG and ensures that it is disposed of safely and won't enter your drainage system.
FOG Removal – Pressure then forces the FOG out of the oil valve and into the oil collection cassette. The clean water is then discharged out of the outflow into the sewer system.
Benefits of the GreaseMaster for Food Waste Reduction
The are a number of benefits of the GreaseMaster which can aid caterers in their goal of food waste reduction such as:
Guaranteed compliance with regulations
No moving parts to break
Hassle free mobilisation, installed in a matter of hours by one of our trained technicians
Helps prevent costly blockages and bad smells, also preventing pests
Grease Reduction Unit Servicing & Maintenance
The GreaseMaster will require periodic servicing to ensure efficient FOG removal, which Filta can schedule in as part of a maintenance programme. Lee Shelton mentions that:
Grease management equipment will need a deep clean and general maintenance during the year if you want to keep it in tip-top condition and performing at its very best. By doing this, you minimise the chances of unexpected issues such as blockages, which can cause a kitchen to close, incurring high costs for your catering operation.
The GreaseMaster, for example, will require yearly or half yearly deep cleaning to ensure efficient FOG removal, which we schedule in as part of a maintenance programme. It's definitely more of an insurance than a gamble. As a one stop shop, we will not only provide and install the grease reduction systems, but empty, clean and service units at regular intervals, and can use this time to educate or retrain staff.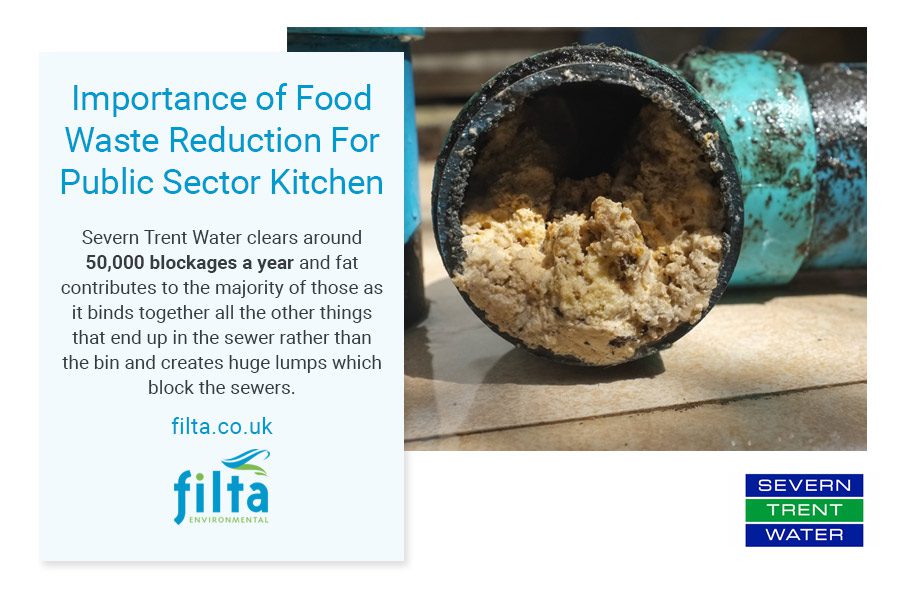 Importance of Food Waste Reduction For Public Sector Kitchen
The facts and figures below highlight the importance and responsibility that public sector kitchens have in reducing their food waste.
Severn Trent Water clears around 50,000 blockages a year and fat contributes to the majority of those as it binds together all the other things that end up in the sewer rather than the bin and creates huge lumps which block the sewers
Fat, oil and grease cost the UK water industry an estimated £15 million per year (Source – Anglian Water)
The Environment Agency estimates 75 percent of sewer blockages are caused by a build-up of FOG. (Source – Environment Agency)
Commercial Kitchen Specialists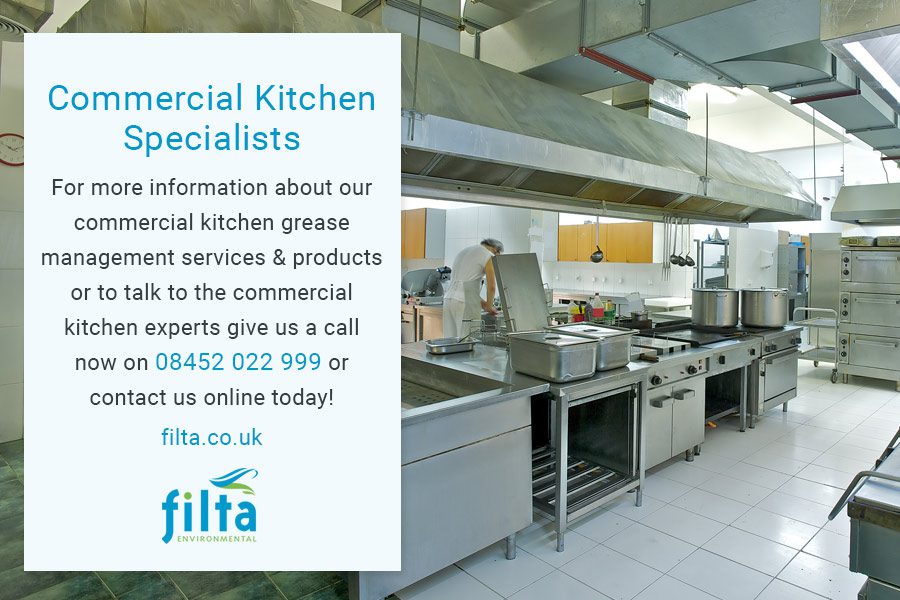 If you want to reduce your food waste and make sure you don't fall foul of FOG legislation then we can help. For more information about our grease management services and products or to talk to the commercial kitchen experts give us a call now on 08452 022 999 or contact us online today!