Water Industry Act 1991 – Have You Received a FOG Compliance Notice?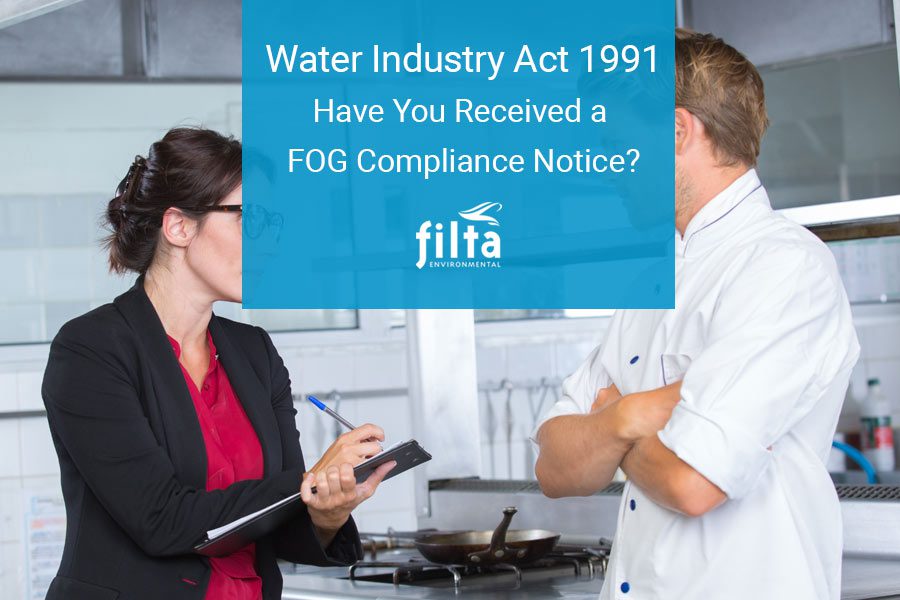 Have you received a letter from your Water Company regarding the Discharge of Fats, Oils and Grease (FOG) into the Sewer Network and making reference to the WIA 1991 Section 111? If you have do not ignore it. Failure to act can lead to fines and or prosecution. Fortunately the experts at Filta can help you and in this post we'll outline what you should do if you've just received a notice from you water company.
About the Water Industry Act 1991 Section 111
Under Section 111 of the Water Industry Act 1991 (WIA) it is a criminal offence to throw, empty or turn, or suffer or permit to be thrown or emptied or to pass, into public sewer, or into any drain or sewer communicating with a public sewer any matter likely to affect prejudicially the treatment and disposal of its contents.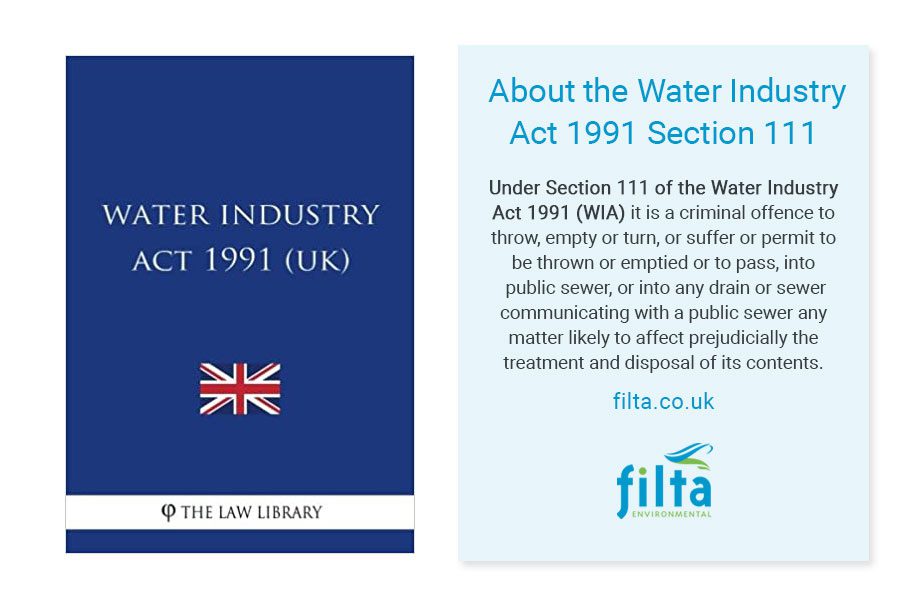 Where appropriate the Water Company will take enforcement action under section 111 WIA to protect its sewer network. If convicted, a person who contravenes the provisions of section 111 WIA will be liable:
On summary conviction by a Magistrates Court, to pay an unlimited fine, plus a further fine of up to £50 for each day which the offence continues after a conviction; or
On indictment by a Crown Court, to be imprisoned for a term up to two years or to an unlimited fine, or both
In addition to the above criminal sanctions, the Water company will also seek to recover costs related to the clearance of blockages, local flooding events and any other associated works if our investigation shows it to be caused by your premises.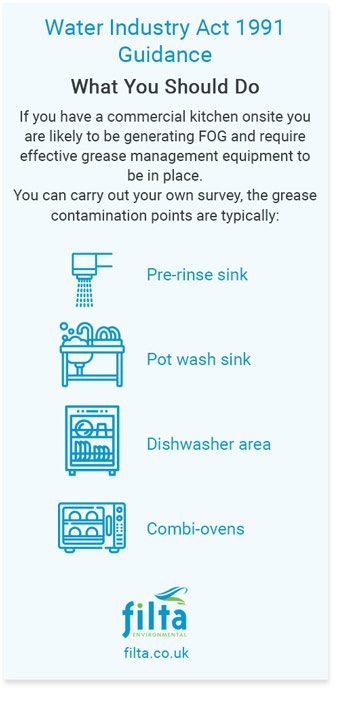 Water Industry Act 1991 Guidance – What You Should Do
Hot food producing Food Services Establishments (FSEs) generate FOGs from food preparation and washing of pots, pans, plates and utensils. FOGs restrict pipes and can lead to local and network blockages. Water Companies are taking proactive steps to ensure FSEs have grease management systems in place to prevent FOG entering the drain line. If you have a commercial kitchen onsite you are likely to be generating FOG and require effective grease management equipment to be in place. You can carry out your own survey, the grease contamination points are typically:
Pre-rinse sink
Pot wash sink
Dishwasher area
Combi-ovens
Your grease trap or grease management equipment should be connected to the drain-line which carries the waste from the above equipment.
Water Industry Act 1991 PDF Download
You can download a full pdf copy of the
Water Industry Act 1991 here
. It is a long document but ensuring you're familiar with it will help keep your business compliant.
Grease Management Specialists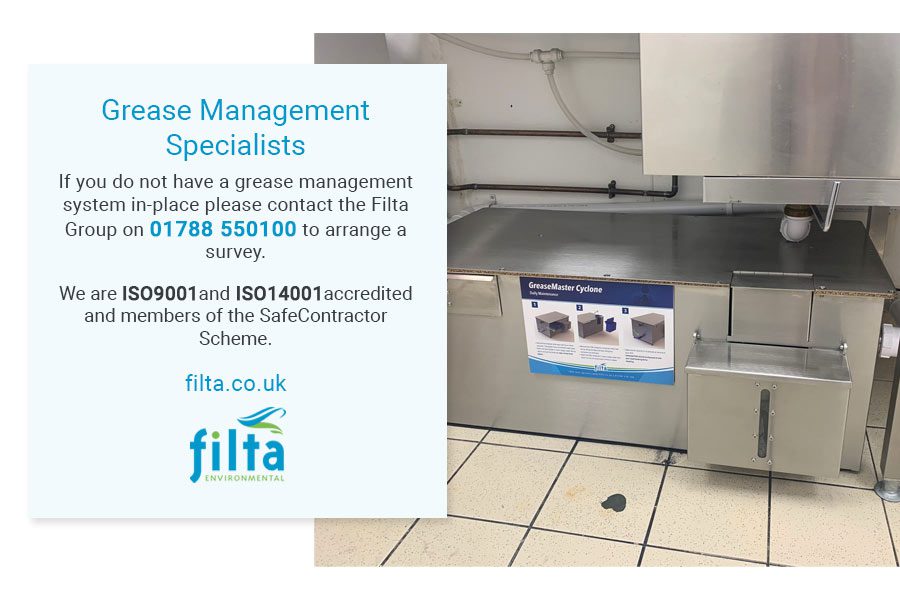 If you do not have a grease management system in-place please contact the Filta Group on 01788 550100 to arrange a survey. Filta's staff have been providing grease traps, grease separators and grease removal units for over 20 years. We provide a wide range of products and take care of all aspects from design and Water Company Approval to Installation and Maintenance. We are ISO9001 and ISO14001 accredited and members of the SafeContractor Scheme. To find out more please get in touch via enquiries@filtagroup.com or book a video call via our contact page.