The November Press Round Up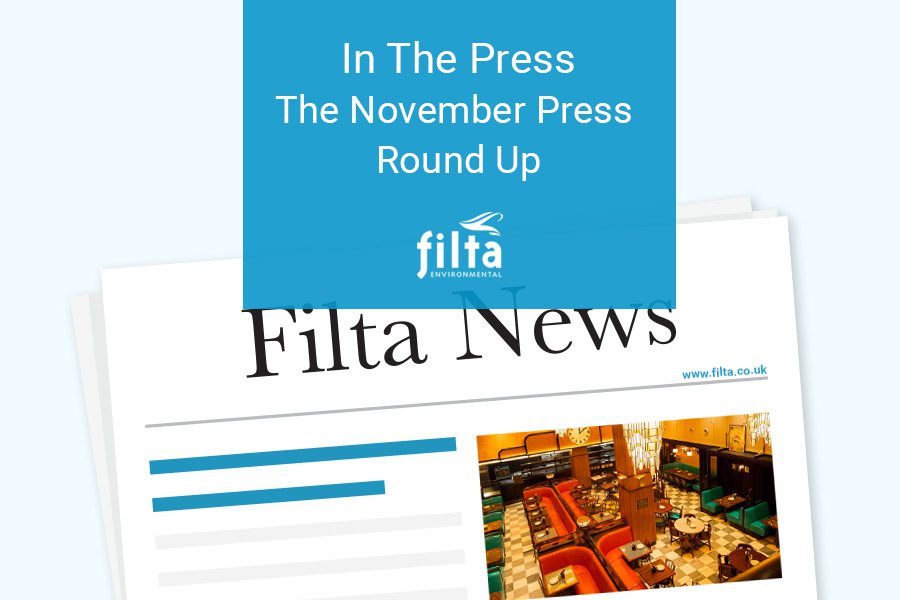 It's been another busy period for Filta with some new recruits, exciting projects, client case studies and catalogue launches all featuring in the press. Read on to see what the industry experts have been saying about Filta and how our FOG management products are helping businesses across the country.
Food Service Equipment Journal – Dishoom Case Study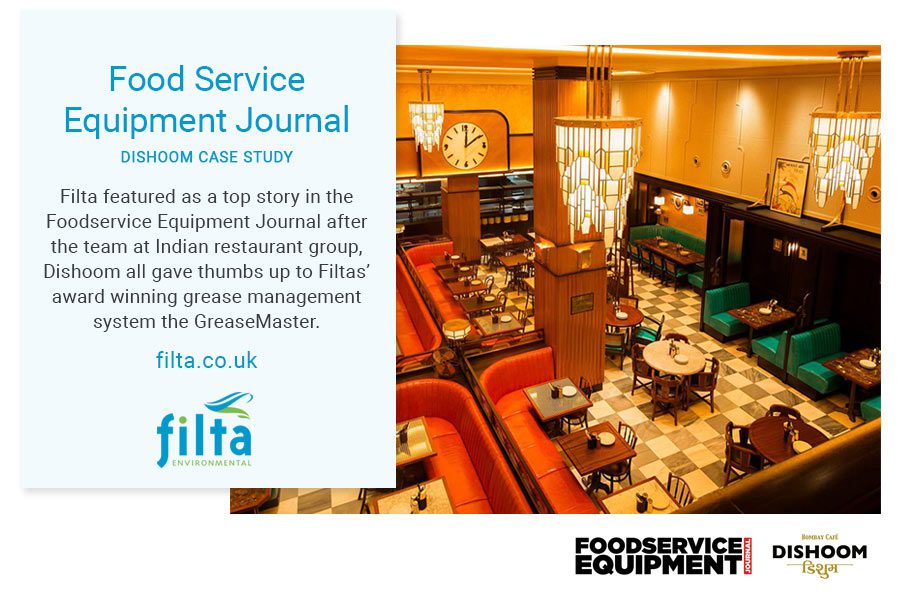 Filta featured as a top story in the
Foodservice Equipment Journal
after the team at Indian restaurant group,
Dishoom
all gave thumbs up to Filtas' award winning grease management system the
GreaseMaster
. The Foodservice Equipment Journal is the UK's leading foodservice equipment industry news site. The monthly business magazine and daily-updated website is the go-to place for the foodservice equipment industry.
Filtas proposed grease management system performed so well that Dishoom decided to replace all the existing units on site which has now resulted in significantly less grease collecting in its on-site pumping station. Nick Carpenter, maintenance manager at Dishoom, said:
"Our kitchen teams prefer the GreaseMaster for its simplicity as it doesn't have any moving parts, which makes it easy to clean," added Mr Carpenter. "The chefs really like it as it's a robust piece of kit and if blocked can be cleared in just five minutes, minimising costly downtime and interruption to service."
Since the story has featured we have gone on to install our new automated extraction cleaning system at their Edinburgh Dishoom restaurant and we look forward to supporting Dishoom with all their grease management needs.
Filta Launch on AutoQuotes in Catering Insight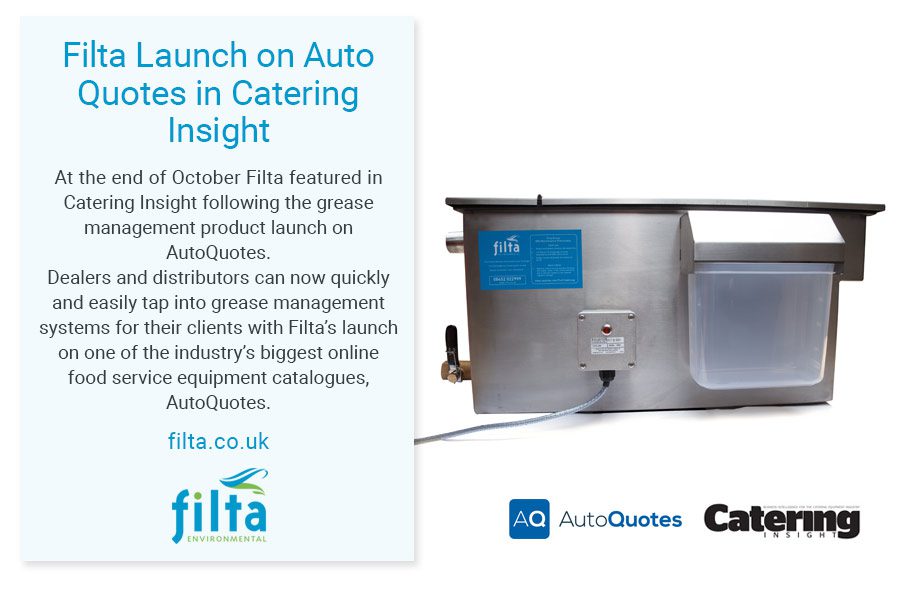 At the end of October
Filta featured in Catering Insight
following the
grease management product
launch on AutoQuotes. Dealers and distributors can now quickly and easily tap into grease management systems for their clients with Filta's launch on one of the industry's biggest online food service equipment catalogues,
AutoQuotes
. We're looking forward to supporting dealers and distributors by helping them to solve their fats, oils and grease problems. Our offering covers installation, commissioning and a UK-wide ongoing service 24/7 is also provided, if needed.
New Technical Sales Recruit On Board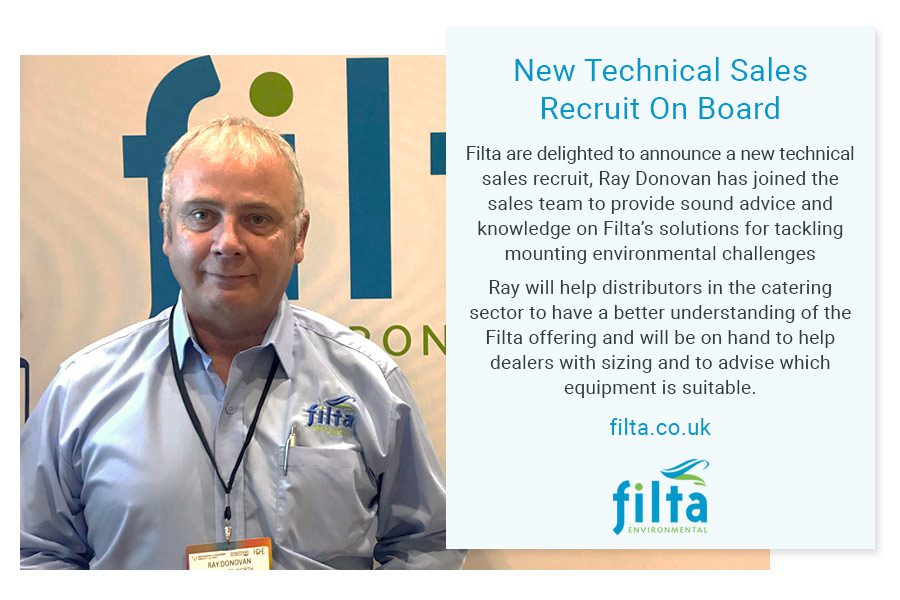 Filta are delighted to announce a new technical sales recruit, Ray Donovan who has joined the sales team to provide sound advice and knowledge on Filta's solutions for tackling mounting environmental challenges. Ray will help distributors in the catering sector to have a better understanding of the Filta offering and will be on hand to help dealers with sizing and to advise which equipment is suitable. Ray will also maximise the opportunities from the online catering catalogue, AutoQuotes.
The story trended as a most read feature in the Foodservice Equipment Journal this month with Filta Managing Director, Edward Palin commenting
"By taking on Ray, we've enhanced our sales team to support the technical requirements of the catering industry, understanding the regional requirements and providing the best advice. We also provide scheme design, installation and perhaps, most importantly, maintenance to make sure fat, oils and grease (FOG) systems perform effectively and in line with legal requirements and having the best follow up support is absolutely vital. We welcome Ray into his new role."
Commercial Kitchen Specialists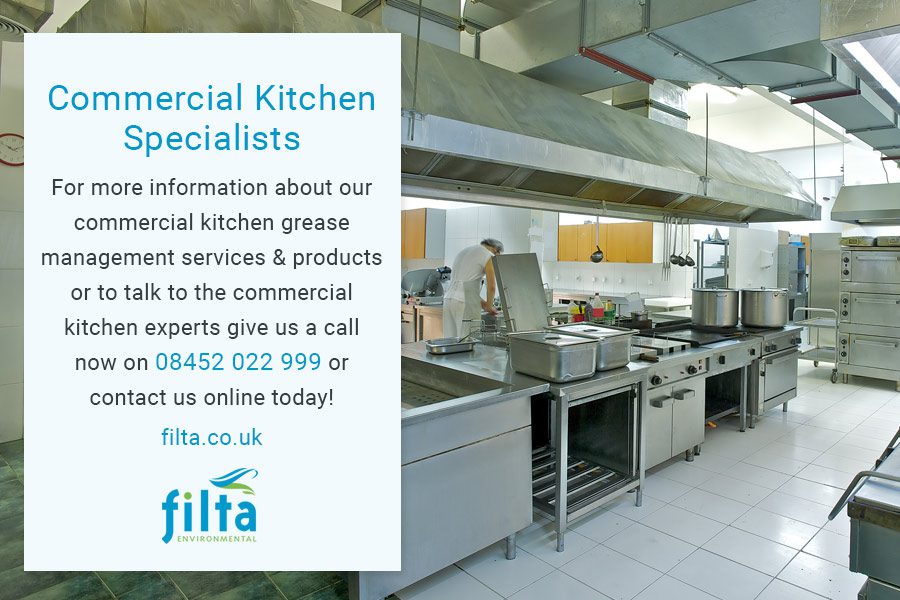 And so that ends the press recap for now but for more information about our
commercial kitchen grease management services
 and products or to talk to the commercial kitchen experts give us a call now on
08452 022 999
 or
contact us online
today!