The Hotel, Restaurant & Catering Show 2020 – We'll Be There!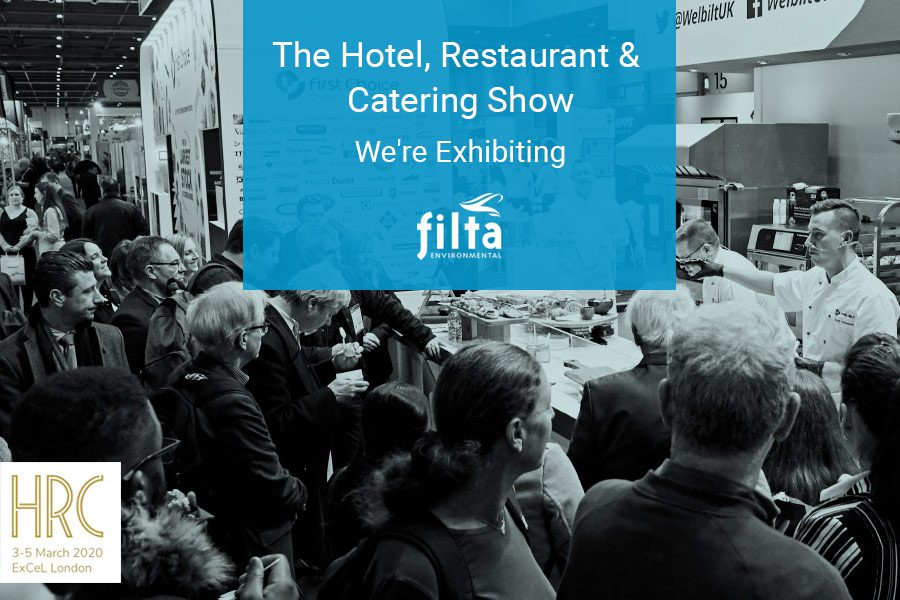 We are delighted to attend this year's Hotel, Restaurant and Catering (HRC) show and will be showcasing our innovative FiltaFOG GreaseMaster grease recovery unit, our new FiltaVent automated extraction cleaning system to help caterers meet new fire risk management standards and our FiltaSeal refrigeration seals, which help you keep food fresh and work out 40 percent more cost-effective than competitors on the market. In this post we'll give you an overview of what you can expect to see when you visit us during the HRC from the 3rd – 5th March at ExCel in London.
Grease Management At The HRC – Conquer Your FOG
At HRC, you will be able to see our
award winning GreaseMaster
in action. The highly-efficient
grease recovery unit (GRU)
system is designed to fit under the sink to remove FOG from sinks, dishwashers, rotisserie ovens and combi-ovens in real-time before it gets to the drains and is an alternative to traditional grease traps, which are not always large enough to be effective, need constant monitoring to ensure they are not overloaded and whose contaminants are difficult to recycle, having to be disposed of by a licensed waste carrier.
Grease Management Made Easy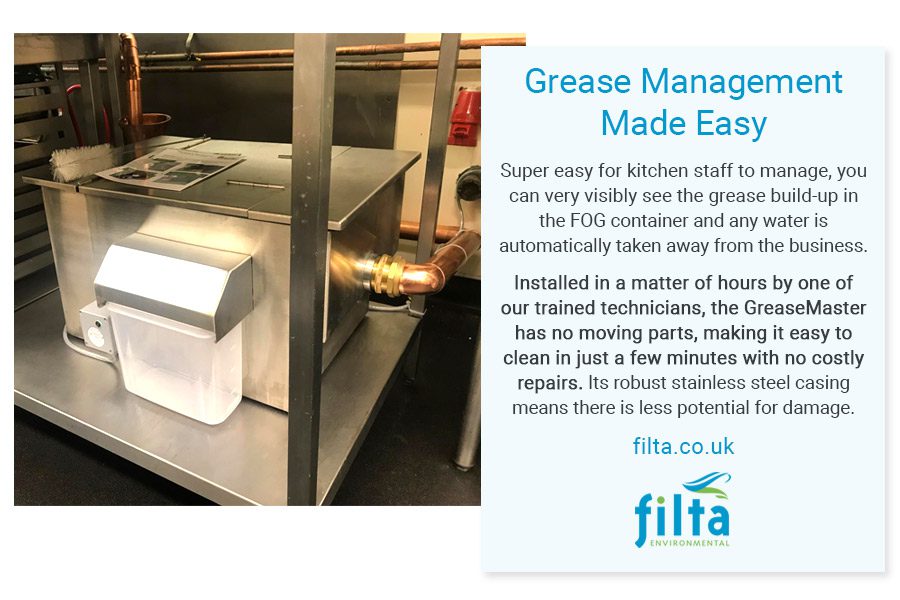 Super easy for kitchen staff to manage, you can very visibly see the grease build-up in the FOG container and any water is automatically taken away from the business. Installed in a matter of hours by one of our trained technicians, there are also no moving parts, making it easy to clean in just a few minutes with no costly repairs. Its robust stainless steel casing means there is less potential for damage.
Significantly reducing the amount of grease collecting in a foodservice operator's on-site pumping stations in a world increasingly looking to be sustainable, FOG collected from the grease recovery unit also has very minimal water content and is, therefore, also suitable for use in the production of biodiesel. The greasemaster also helps reduce food waste in public sector kitchens.
Automated Duct Cleaning at HRC – Meet Your TR19 Obligations
At HRC, we will also be unveiling our new
automated ductwork cleaning system
to help caterers meet the new
TR19 Grease Specification For Fire Risk Management
Of Grease Accumulation Within Kitchen Extraction Systems legislation from the Building Engineering Services Association (BESA), which now expects caterers to be far more vigilant and if they don't, they increase their risk of prosecution.
About FiltaVent
FiltaVent is an automated kitchen extract duct-cleaning service that works round-the-clock, spraying biological enzymes through specially designed nozzles to control, dissolve and reduce the build-up of FOG within the ductwork and extract fan. These enzymes are able to target all corners and inaccessible areas of the ductwork, unlike manual cleaning, where areas are often missed or avoided. By having the Filta system to significantly reduce the accumulation of FOG in their extraction system, caterers can also make cost savings on outside cleaning and maintenance services, also meaning less downtime. Kitchen extraction systems also operate at their full potential, meaning less bad odours.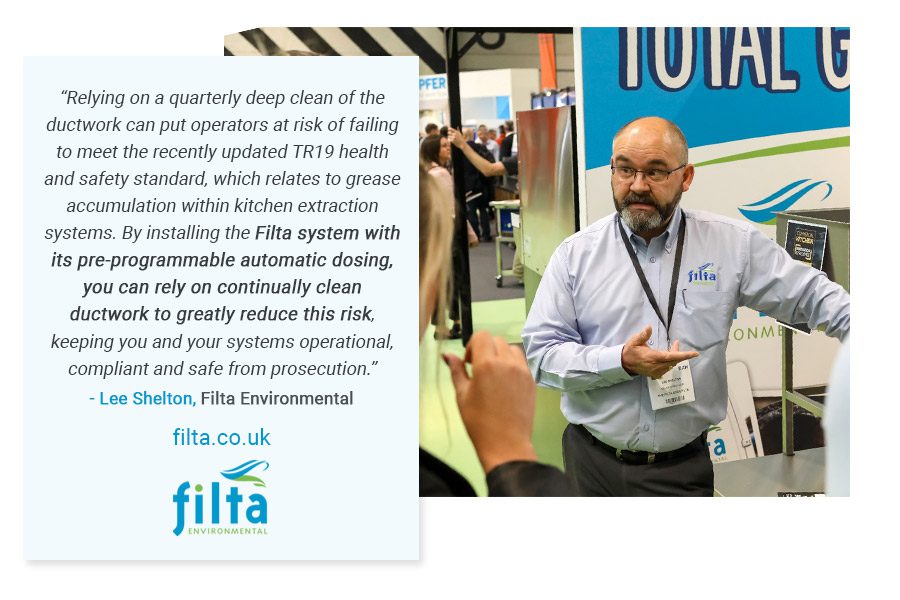 Filta's Lee Shelton said the system was a must-have in a commercial kitchen, especially with revisions to the TR19 standard from the UK's leading trade organisation for building engineering services contractors. Lee said:
"Relying on a quarterly deep clean of the ductwork can put operators at risk of failing to meet the recently updated TR19 health and safety standard, which relates to grease accumulation within kitchen extraction systems. By installing the Filta system with its pre-programmable automatic dosing, you can rely on continually clean ductwork to greatly reduce this risk, keeping you and your systems operational, compliant and safe from prosecution."
Refrigeration Seal Replacement – Keep Your Food Fresh & Bills Down
As you know refrigeration units are, typically, one of the most reliable appliances in a commercial kitchen, despite the fact they are generally up and running on a 24/7 basis, 365 days of the year, and should, on average, last 10-15 years. However, that doesn't mean they do not need any maintenance in the interim. As will will explain at HRC, fridge seals can wear out within just six months of buying new refrigeration equipment, leaving caterers open to some serious problems such as micro-organisms and bacteria entering the food storage compartment unit, a potential disaster on a human level.
Risks Associated With Damaged Refrigeration Seals
Damaged seals also let cool air escape from your fridge or freezer, meaning you will be using more power to keep the stock you have at a low temperature. When you consider that the energy used in catering facilities typically accounts for 4-6 percent of operating costs, and the
power consumed by refrigeration systems in UK supermarkets
, your bills could end up significantly higher.
To protect those you are feeding and to maintain optimum energy efficiency, you must maintain an airtight seal between a refrigerated space and the surrounding ambient temperature and you can't just assume the seals on your fridges and freezers are in pristine condition because they don't look soiled. Telling signs that they need to be replaced include if your fridge is not staying as cold as it used to and food is spoiling faster or the door pops open repeatedly, which is usually due to a weakened seal that can no longer remain suctioned closed. As a result, caterers should replace fridge seals, also known as door gaskets, every 6-18 months for total peace of mind.
Refrigeration Seal Replacement Made Simple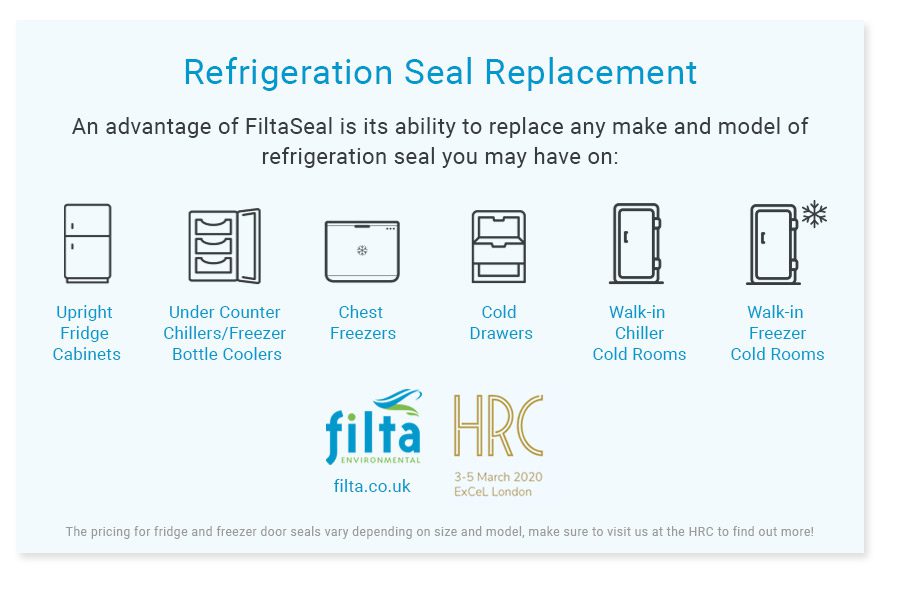 Where our
refrigeration seal replacement
system, FiltaSeal, differs from competitors is that, traditionally, the process requires two visits. The first, to diagnose, measure and order the refrigeration seal, the second, to fit the seal, accumulating two call-out charges. Our engineers, however, come out and manufacture your seal on-site in a specialised mobile workshop, fitting it there and then with one call-out at one fixed price with no extra charges to you. Another advantage of FiltaSeal that you can see at the HRC is its ability to replace any make and model of refrigeration seal on:
Upright fridge cabinets
Under counter chillers/freezer bottle coolers
Chest freezers
Cold drawers
Walk-in chiller cold rooms
Walk-in freezer cold rooms
The pricing for fridge and freezer door seals vary depending on size and model, make sure to visit us at the HRC to find out more!
The HRC Show 2020 – Visit The Commercial Kitchen Specialists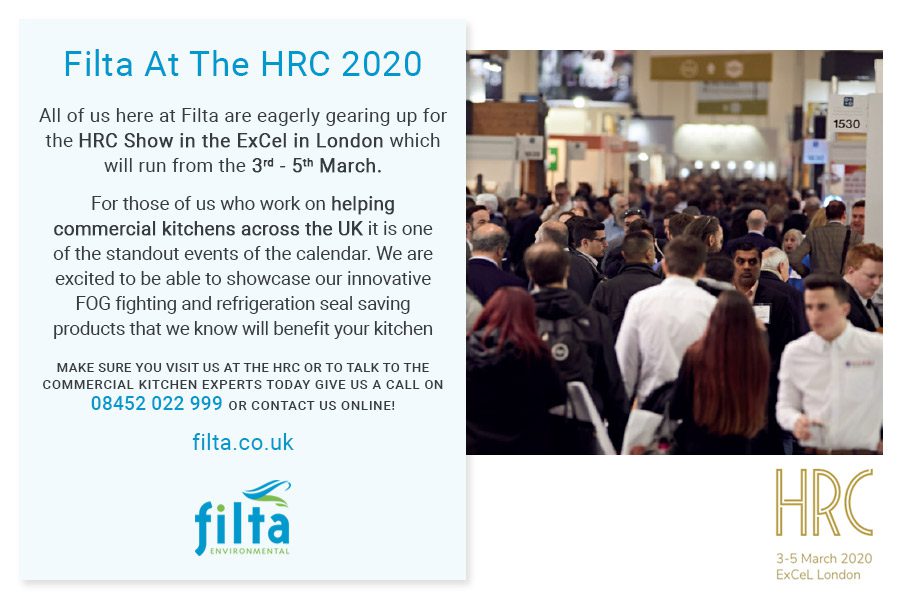 All of us here at Filta are eagerly gearing up for the HRC Show in the ExCel in London which will run from the 3rd – 5th March. For those of us who work on helping commercial kitchens across the UK it is one of the standout events of the calendar. We are excited to be able to showcase our innovative FOG fighting and refrigeration seal saving products that we know will benefit your kitchen. Make sure you visit us at the HRC or to talk to the commercial kitchen experts today give us a call on
08452 022 999
 or
contact us online
for more info!