FOG Management Solutions at the Commercial Kitchen Show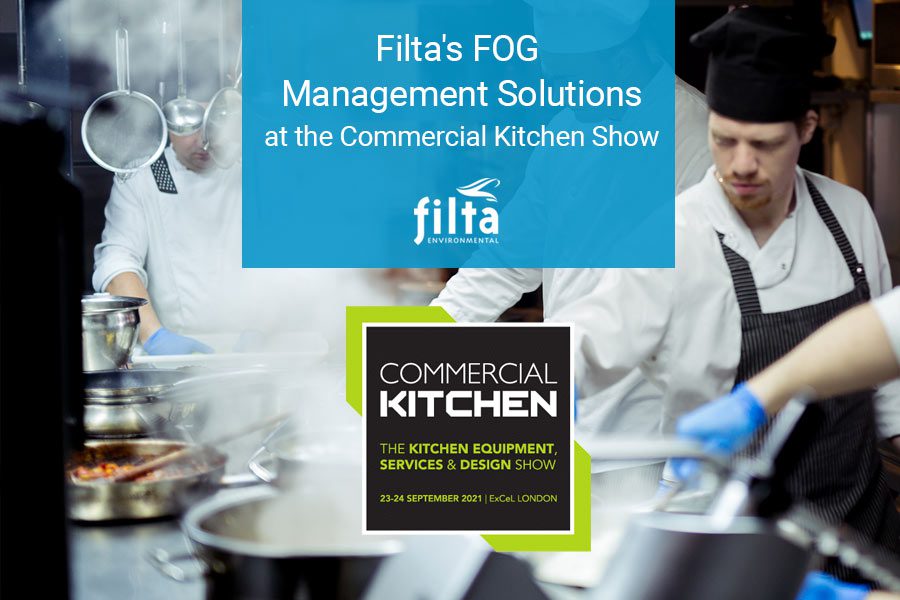 Filta Group will be exhibiting at The Commercial Kitchen Show (Stand C49), showcasing its range of fats, oils and grease (FOG) management and compliance solutions for commercial kitchen operators.
FOG compliance is becoming an increasingly important issue for caterers, with water companies taking proactive steps to ensure the operator has grease management systems in place to prevent FOG from causing blockages. Owners could be liable to enforcement action and the risk of unlimited fines and/or up to two years imprisonment if they fail to comply.
End-to-End FOG Solutions
Filta Group offers an end-to-end solution to take the hassle out FOG and help achieve compliance, including innovative solutions, expert advice, FOG design services and surveys.
Filta FOG Cyclone
Its experts will be on hand to showcase innovative solutions including the FiltaFOG Cyclone
Grease Recovery Unit
. Suitable for drainage systems, dishwashers/pot wash areas, rotisserie ovens and combi ovens, it delivers previously unimagined levels of FOG retention whilst using less energy than traditional GRUs and ensuring a better kitchen environment too.
The creator of the FiltaFOG Cyclone, Malcolm Higgins, will be on the stand to meet visitors and showcase the technology, which now includes a FiltaFOG Cyclone LL model for lower connection heights such as low floor-standing combi-ovens.
FOG Savings Calculator
Visitors to the Filta Group stand will also be able to take advantage of a FOG Savings Calculator, working with a member of the Filta team to calculate potential savings across their estate compared with current equipment. Each FiltaFOG Cyclone unit can save £800 to £1,000 each year through lower power costs and the value of recovered oil, when compared with other models.
Filta Group combines product excellence with specialist expertise to offer a wide range of hygiene, environmental and grease management services spanning front-of-house and back-of house. Services include grease management, refrigeration seal replacement, fryer management and wastewater treatment and pumping.
FiltaFog Cyclone Grease Recovery Unit
FiltaFOG Cyclone uses eight independent Hydro Cyclones to offer unique two-stage FOG separation and recovery, capable of recovering approximately 2,000 litres of quality oil every year, worth £400 to the operator, with less than 25 parts per million FOG at outlet. With the lowest energy consumption of any GRU, it costs as little as £8 per year to run, compared with £500 per year for an equivalent competitor GRU. It is a sealed outlet with no need for staff to remove covers, which means no odours, reduced cleaning time and a better kitchen environment too.
Caterers can also take advantage of the FiltaFOG Cyclone LL, with lower connection heights to suit all kitchen environments, even where outlet heights on cookline and dishwash lines are low.
Contact Filta
To find out how Filta Environmental can help you make operational improvements and financial savings, please visit call us 01788 550100 or contact us online now.
Date of issue: 16th July 2021
For further information, please contact:
Imran Ishaq
Filta Environmental
Tel: 01788 550100
Email: info@filta.co.uk