Design for Fat Profits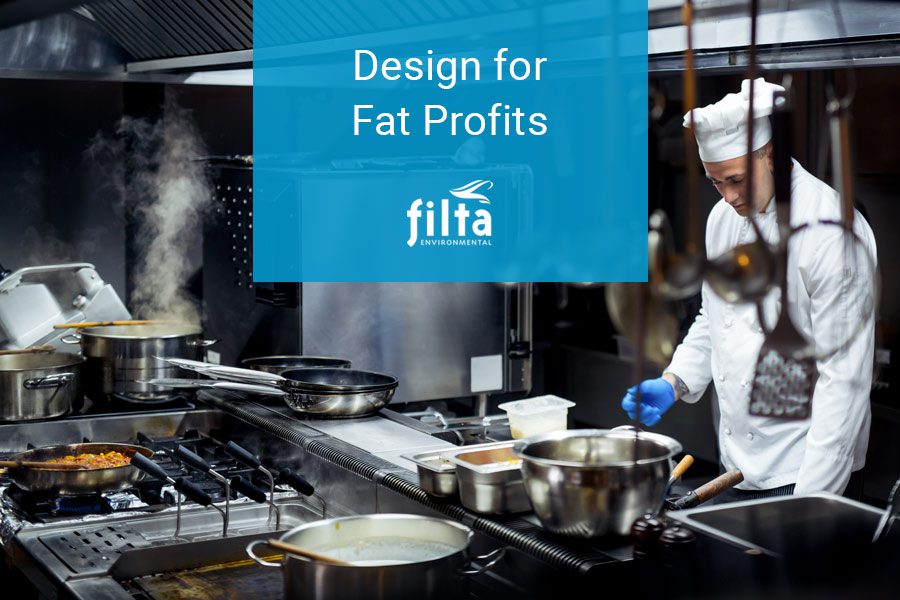 Lee Shelton of The Filta Group, leading specialist in innovative grease management systems for foodservice, said they had worked with major restaurant operators to ensure their kitchen fit-outs incorporated the best solutions for preventing fats, oils and grease (FOG).
These include Harry Ramsden's, Las iGuanas, La Tasca and Pizza Hut.
FOG Management Systems To Meet Legislation
"Grease traps used to be a bit of an afterthought and not necessarily something operators would be spending too much brainpower on when fitting out a kitchen,"
 said Lee. 
"However, concerns surrounding FOG have escalated drastically in recent years and the best way to maximise space and efficiency is for casual dining operators to incorporate grease management systems into the design in the first place. Yes, you can buy any old grease trap once your kitchen is done, but it might too small for your needs and your output and, therefore, you will not be compliant.
"Today we are seeing more enforcement from Water Companies relating to sites not having effective grease traps or grease management systems. So-called 'fatbergs', a disgusting phenomenon whereby fat mixes with the likes of wet wipes to create fat monsters that result in sewer blockages, are becoming a growing problem and foodservice operators are increasingly coming under fire for the part they play. Under the Water Industry Act (1999), there are regulations governing the disposal of FOG and preventing it from entering drains and sewers, and operators should seriously consider whether they have got the right grease management systems in place." 
"As well as fines, you could face charges for cleaning and repairs to sewer networks. Our FOG management systems are guaranteed to ensure sites meet legislation and each system is sized to meet your exact requirements, complete with a personalised maintenance schedule."
Fatberg Research
According to research, more than 70 percent of drain blockages and backups within a commercial kitchen are caused by the build-up of FOG from potwash sinks, dishwashers and combi-ovens, and operators shouldn't become complacent.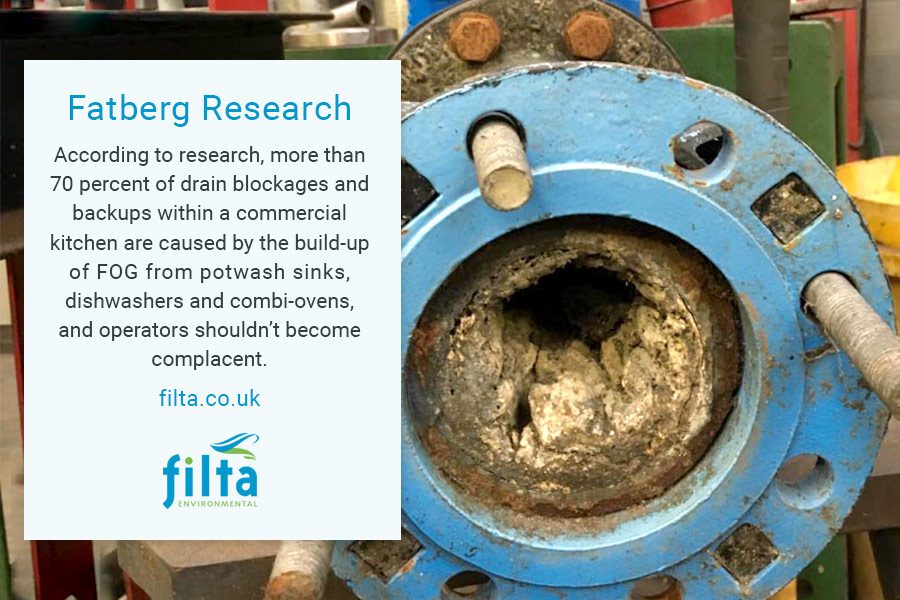 Oil Over It
The Filta Group, which won the Supplier Innovation Award at the 2018 FSM Awards, has supplied, installed, maintained and repaired the most effective grease management systems of the highest quality and value for money for the last 22 years.
As well as standard grease traps, which are ideal for small operations, The Filta Group also specialises in automatic grease recovery units, bacterial drain dosing and in ground gravity interceptors. Distinctly, the company isn't restricted to any one supplier or product to ensure the customer gets absolutely the best solution for them.
"With nationwide coverage, we install robust, grease management systems that suit an operator's specific circumstances, needs and budget, as well as determine the most effective service and maintenance schedule," said Lee. "We can work with design consultants to ensure you have the right, compliant solutions that are fit for purpose, with follow up services that have been developed to make sure downtime is avoided at all costs.
"By being proactive, you will be able to position the equipment correctly in terms of the number of sinks and combi ovens you plan to have and ensure your interceptors are big enough for any oversized or extra sinks. It's also a chance to think about the pipework system, which will need a clear run to drain outlet for best performance and cost efficiency."
GreaseMaster – Best Performing FOG System
The Filta Group's best performing system for the casual dining market is the GreaseMaster, a system specially designed to fit under the sink to remove FOG before it gets to the drains. It works on sinks, dishwashers, rotisserie ovens and combi-ovens and efficiently removes food debris and waste FOG without drain blockages or foul odours.
The GreaseMaster works in three stages:
Food removal– Any unwanted food debris is automatically captured and held in a removal food strainer basket. The basket keeps the GreaseMaster clean and easy to use for your commercial kitchen team.
FOG separation– An innovative FOG separator chamber separates the FOG and ensures that it is disposed of safely and won't enter your drainage system.
FOG removal – Pressure then forces the FOG out of the oil valve and into the oil collection cassette. The clean water is then discharged out of the outflow into the sewer system away from your business.
Lee said: "The FOG collected from the grease recovery unit has very minimal water content and is suitable for use in the production of biodiesel, a very sustainable solution."
The GreaseMaster will require periodic servicing to ensure efficient FOG removal, which Filta can schedule in as part of a maintenance programme.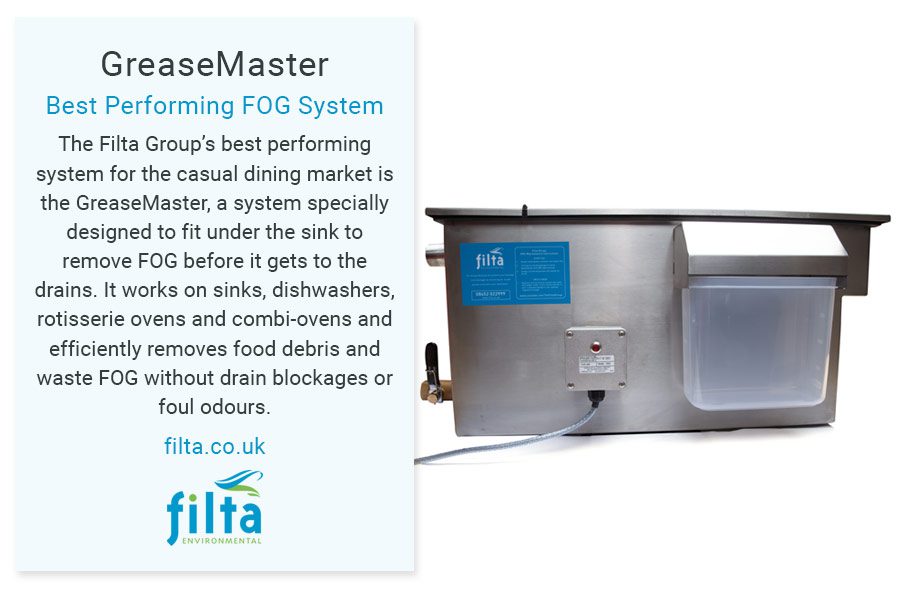 Benefits of GreaseMaster
Guaranteed compliance with regulations
No moving parts to break
Hassle free mobilisation, installed in a matter of hours by one of our trained technicians
Helps prevent costly blockages and bad smells
Preventing pests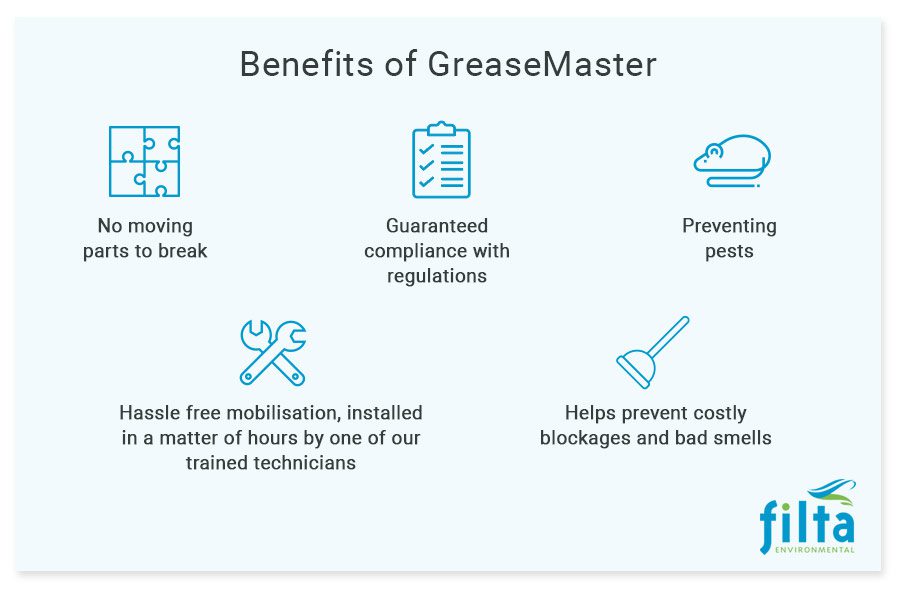 FOG Stats and Facts
According to research, more than 70 percent of drain blockages and backups within a commercial kitchen are caused by the build-up of FOG
Severn Trent Water clears around 50,000 blockages a year and fat contributes to the majority of those as it binds together all the other things that end up in the sewer rather than the bin and creates huge lumps which block the sewers
Fat, oil and grease cost the UK water industry an estimated £15 million per year (Source – Anglian Water)
The Environment Agency estimates 75 percent of sewer blockages are caused by a build-up of FOG. (Source – Environment Agency)
Commercial Kitchen Specialists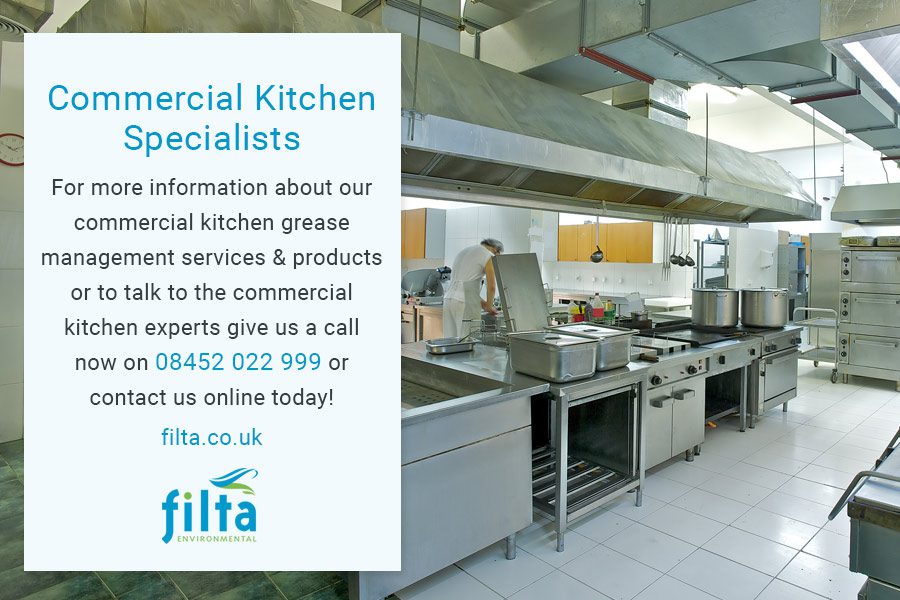 For more information about our commercial kitchen grease management services and products or to talk to the commercial kitchen experts give us a call now on 08452 022 999 or contact us online today!