CASE STUDY
Franco Manca – Grease Management Solution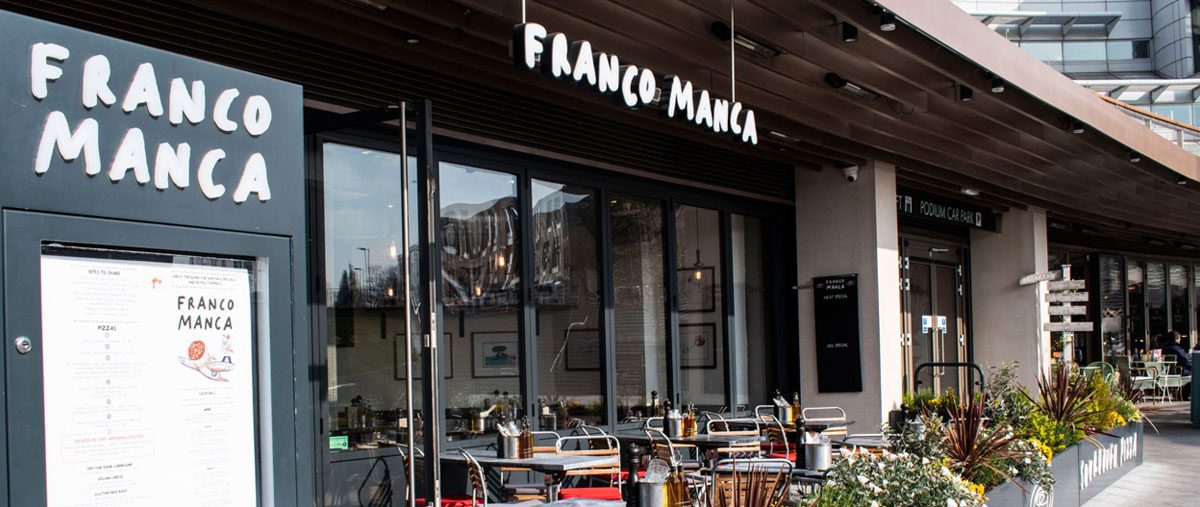 Franco Manca – UK's Best Italian Restaurant on Yelp
Celebrating its 50th restaurant opening in 2019, Franco Manca – winner of the UK's Best Italian Restaurant on Yelp – is a success story of fortissimo proportions, the first of its kind to introduce Brits to mouth-watering sourdough pizza made in a wood-fired oven before their very eyes. However, opening 45 restaurants in the last six years alone and venturing way beyond its London roots called for an inevitable reassessment of its overall grease management.
Client: Franco Manca
Problem Grease Management
Solution: Grease Management for the chain
Date: 2019
Grease Management – A Growing Burden
As we see with much of today's infrastructure, the UK's drainage systems were never designed to cope with the number of foodservice establishments that have sprung up in the past few decades.
And, reportedly, 70% of drain blockages from fat, oil and grease (FOG) from restaurants, pubs and takeaways are caused by FOG build-up generated from washing pots, pans and plates, often resulting in expensive repairs, as well as so-called fatbergs and rancid odours and unwanted pests.
It's a growing challenge and an added responsibility for foodservice operators, which is why, committed to best practice and knowing just how costly drain blockages can be, award-winning pizza restaurant chain Franco Manca has made grease management one of its top priorities. Head of Openings and Maintenance at Franco Manca, Bruno Leal, had this to say:
"Good practice aside, we know first-hand the repercussions of drain blockages on a business. Only last year, a neighbouring catering operation with no grease management system in place caused the manholes to overflow and we had to close the kitchen. Our Covent Garden and Soho restaurants alone deliver up to 1,000 covers on a Saturday and good grease management has to be an integral part of any operation."
The Origins of Franco Manca
Franco Manca itself started out as Franco's, a humble pizzeria in London's Brixton Market opened by a guy called, you guessed it, Franco, in 1986. In 2008, however, Franco passed the business to friend Giuseppe Mascoli, who with artisan baker Bridget Hugo, founded the restaurant chain, taking its name from the Italian for 'Franco is missing' in a homage to its original founder.
Heavily influenced by Neapolitan cuisine, Giuseppe and Bridget built a special wood-fired oven and introduced their smoky, slow-rising sourdough pizza – freshly made with naturally leavened bread for an intense flavour dough and a crispy, chewy crust – to London's casual dining scene.
Despite the pair never having run a restaurant before, the pizzeria was a hit, its focus being on properly sourced, small supplier, seasonal ingredients, its cheese and flour coming from Italy and chorizo from Spain. It is also great value. Its 'margherita' will set you back just a fiver, its priciest pizza, just £9. Keeping things simple, there are also only seven pizzas on the menu, alongside salads, gluten-free and vegan options.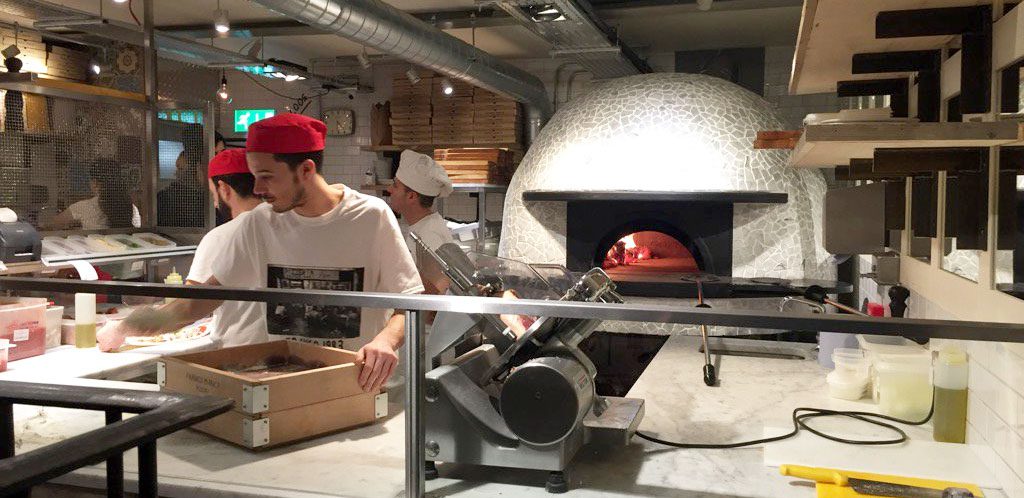 Reassessment of the Grease Management System
In 2019, the chain was not only voted outer London's favourite restaurant in a YouGov poll, it opened restaurants in central Edinburgh, Manchester's Piccadilly Gardens, Birmingham's restaurant quarter, and, further south, in the heart of Exeter.
It was this expansion outside London, bringing the tally to 50, that led to a reassessment of the chain's grease management, said Bruno.
"When we were London-centric, we could easily call on local contractors to empty our grease traps once a fortnight, but as we've branched out, this has become more complicated. We needed to look at service providers with nationwide coverage."
FiltaFOG Cyclone Ups the Game
Bruno was introduced to grease management specialist Filta Group in 2018 through Dentons, which sources, supplies and installs equipment for its fit outs and back of house operations. Sold on Filta's comprehensive servicing programme and UK-wide back-up support, Bruno took the opportunity to explore Filta's alternatives to the traditional grease trap, which are not always large enough to be effective, need constant monitoring to ensure they are not overloaded and whose contaminants are difficult to recycle, having to be disposed of by a licensed waste carrier.
Award Winning Grease Recovery Units (GRU)
Filta's award-winning FiltaFOG grease recovery unit (GRU), on the other hand, is a compliant system designed to fit under the sink to remove FOG from sinks, dishwashers, rotisserie ovens and combi-ovens in real-time before it gets to the drains and works in three stages:
Food removal – Unwanted food debris is automatically captured and held in a removal food strainer basket, keeping the FiltaFOG cylone clean and easy to use for a kitchen team.
FOG separation – An innovative FOG separator chamber separates the FOG and ensures that it is disposed of safely and won't enter your drainage system.
FOG removal – Pressure then forces the FOG out of the oil valve and into the oil collection cassette. The clean water is then discharged out of the outflow into the sewer system.
Significantly reducing the amount of grease collecting in restaurants' on-site pumping stations in a world increasingly looking to be sustainable, FOG collected from the grease recovery unit has very minimal water content and is, therefore, also suitable for use in the production of biodiesel.
Short, Medium and Long Term Benefits
After being shown the benefits and having an on-site survey, Bruno invested in two FiltaFOG Cyclones at each of its new sites in Oxford, Edinburgh, Leeds, Manchester, Exeter and Birmingham, saying:
"The system is so easy to manage with a side box for solid waste, staff can very visibly see the grease build-up in the FOG container and any water is automatically taken away from the business. There are also no moving parts, making it easy to clean in just a few minutes with no costly repairs. Its robust stainless steel casing means there is less potential for damage.

The FiltaFOG Cyclone is an investment, but one that is not only having benefits now, but will pay off long term when it comes to averting closures caused by fat accumulation. Emergency call-outs and having to descale the pipework can set you back up to £2,000 and there is the ripple effect of toilet and bathroom sinks being blocked to consider. This is a great preventative measure and we are not planning to go back to the grease trap 'black boxes' moving forward.

We have a new restaurant in Bishopsgate opening just before Christmas, with another scheduled for spring 2020, and we are looking to have FiltaFOG Cyclone installed at both these sites.

All in all, it makes life much easier for our kitchen teams, and Filta will come out, free of charge, to make sure staff are trained correctly, and retrain staff when we have a change of management."
Peter Nunn, director of Dentons, said:
"As Franco Manca started to expand outside of London, we were asked to look into alternative grease management options. Having worked with Filta group on previous projects, both large and small, I had no hesitation in recommending their solution. The FiltaFOG Cyclone is a simple to maintain, yet robust, unit that we can install with ease for our customers.

A big advantage is the simplicity of the operation process, a brief demonstration on handover is all that is really needed to get them up and running."
Easier Grease Management & Reduced Costs
Lee Shelton, a leading FOG specialist from the Filta Group who has been in the catering industry for 38 years with environmental experience for 15, said:
"We are delighted that Franco Manca is benefitting from the latest innovative solution in our FOG management range, helping them make grease management easy and keep their costs down."
Do you need some expert help with your commercial kitchen? If so, fill in the below and we'll get back to you asap!