What is The Sewage Bill?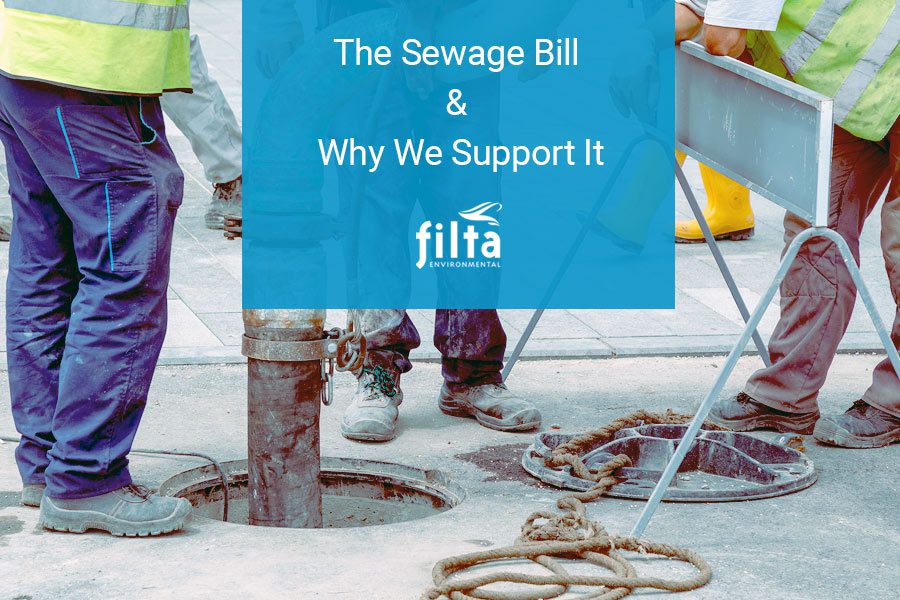 The Sewage Bill, proposed by MP Philip Dunne, wants to impose a duty on water companies to ensure that untreated waste is not disposed of in rivers and other natural water systems. The Bill will require water companies to set out plans to progressively reduce their reliance on combined sewer overflows (CSOs). It proposes increasing levels of transparency, as firms will be mandated to report publicly not just on the frequency and extent of sewage discharges from CSOs and any other sewer catchment assets, but also on the impact on water quality as this is enabled by advances in technology. The Sewage Bill also proposes measures to upgrade drainage infrastructure to separate household sewage from surface water drainage, helping reduce the risk of overspills. It includes measures to reduce harmful products such as non-biodegradable wet wipes, commercial fats and oils from being disposed of down the drains. It is to resolve the shocking extent of sewage polluting our waterways and giving rise to monster fatbergs.
Why is The Sewage Bill Important for FOG Management?
The Sewage Bill will put the onus on the operators of commercial kitchens to stop food wastage being disposed in drains at source. This will prevent the occurrence of fatbergs and reduce the release of CSOs which in turn release harmful sewage to natural rivers thereby polluting them. To understand how detrimental fatbergs can be for the environment then check out these
facts about fatbergs
.
How Does The Sewage Bill Affect Commercial Kitchens?
If you run a commercial kitchen then the section of the Bill of particular interest is 17ZC Point 5 of Paragraph D which states that:
"Measures to reduce the polluting content of sewage, including—
(a,b,c,………)
(d) prohibiting the disposal of fats and oils into sewers by food service establishments."
This means that any business that generates fat, oil and grease as a result of food prep in their commercial kitchen must ensure that measures are taken to prohibit pouring of FOG down the drain.
Warm fats and grease in a liquid form or waste oil poured down sinks and drains can block sewers or impede wastewater treatment works, leading to more frequent and longer duration discharges of untreated sewage to inland waters. If you run a business make sure you check out our guide to fat, oil and grease management for businesses or learn how to clean your grease trap to help minise your FOG.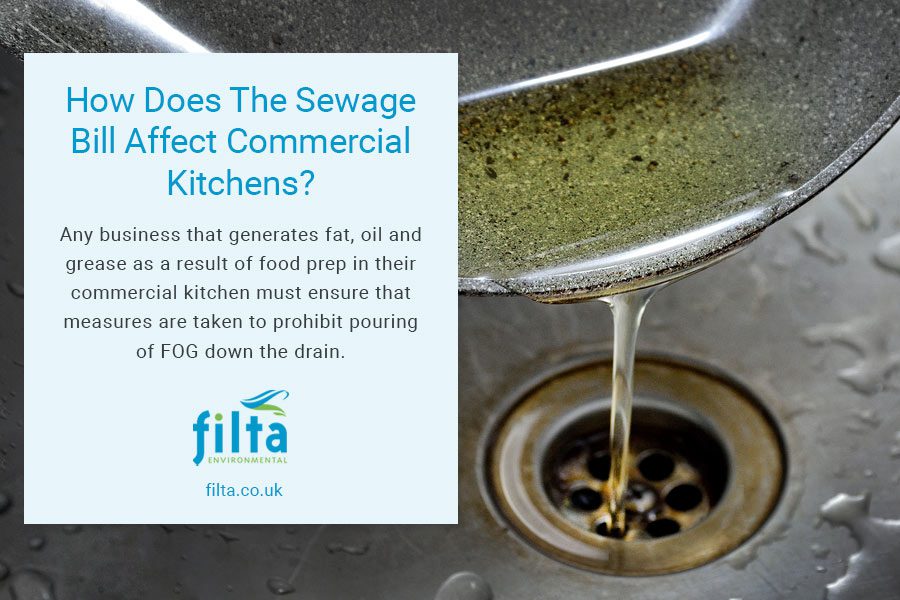 Expert FOG Management for Businesses
Filta has been the leader in
FOG management
for over 20 years. We have recently introduced the
FiltaFOG Cyclone
(FFC). It uses eight independent Hydro Cyclones, offers a unique two-stage FOG separation and recovery which is capable of recovering approximately 2,000 litres of quality oil every year (worth £400 to the operator) with less than 25 parts per million FOG at outlet. The oil recovered can simply be disposed of in oil bins which is then sent for recycling making the FFC perfect for commercial kitchens.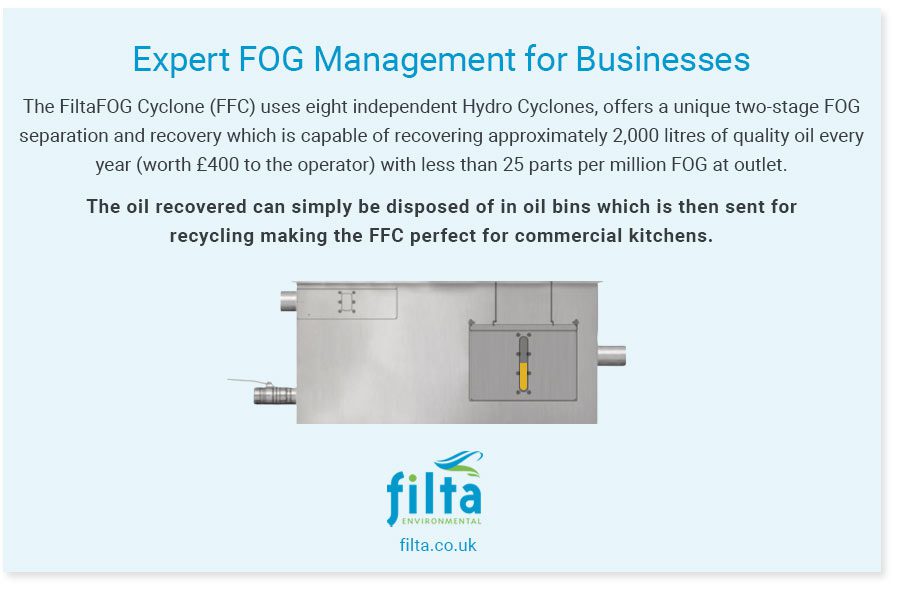 The FFC is installed right before the drain to achieve maximum effectiveness and stops harmful fat, oil and grease from reaching the sewage system. It also offers the lowest energy consumption of any GRU, costing as little as £8 per year to run, compared with £500 per year for an equivalent competitor GRU. A sealed outlet with no need for staff to remove covers so there are no odours with reduced cleaning time and a better kitchen environment too.
The Sewage Bill and Filta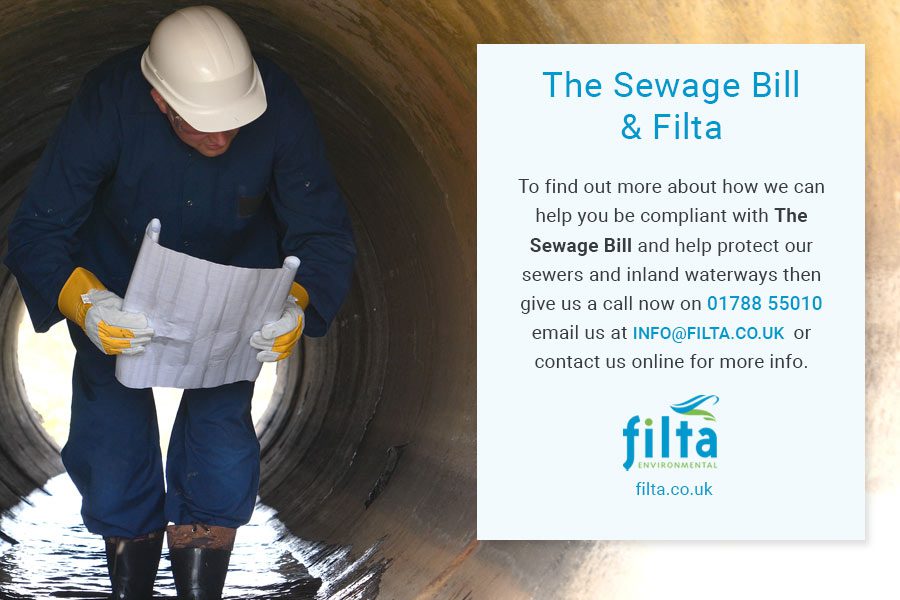 Having been long time advocates for better FOG management and having recently shown MP Philip Dunne the best FOG management practice in a tour of McDonalds we at Filta support The Sewage Bill. Measures like The Sewage Bill, dovetailed with The 1991 Water Industry Act, will ensure the onus is on businesses to make sure they don't pollute and contribute to damaging fatbergs.
To find out more about how we can help you be compliant with The Sewage Bill and help protect our sewers and inland waterways then give us a call now on 01788 550 100, email us at info@filta.co.uk or contact us online for more info.