Antiviral Sanitising Service
(Kills the COVID-19 virus)
Due to recent client demand, we can now offer you a sanitising and disinfecting service that eliminates all envelope viruses, flu and up to 99.99% of bacteria from your area.
Protect your employees, customers and business and with our COVID-19 sanitising service.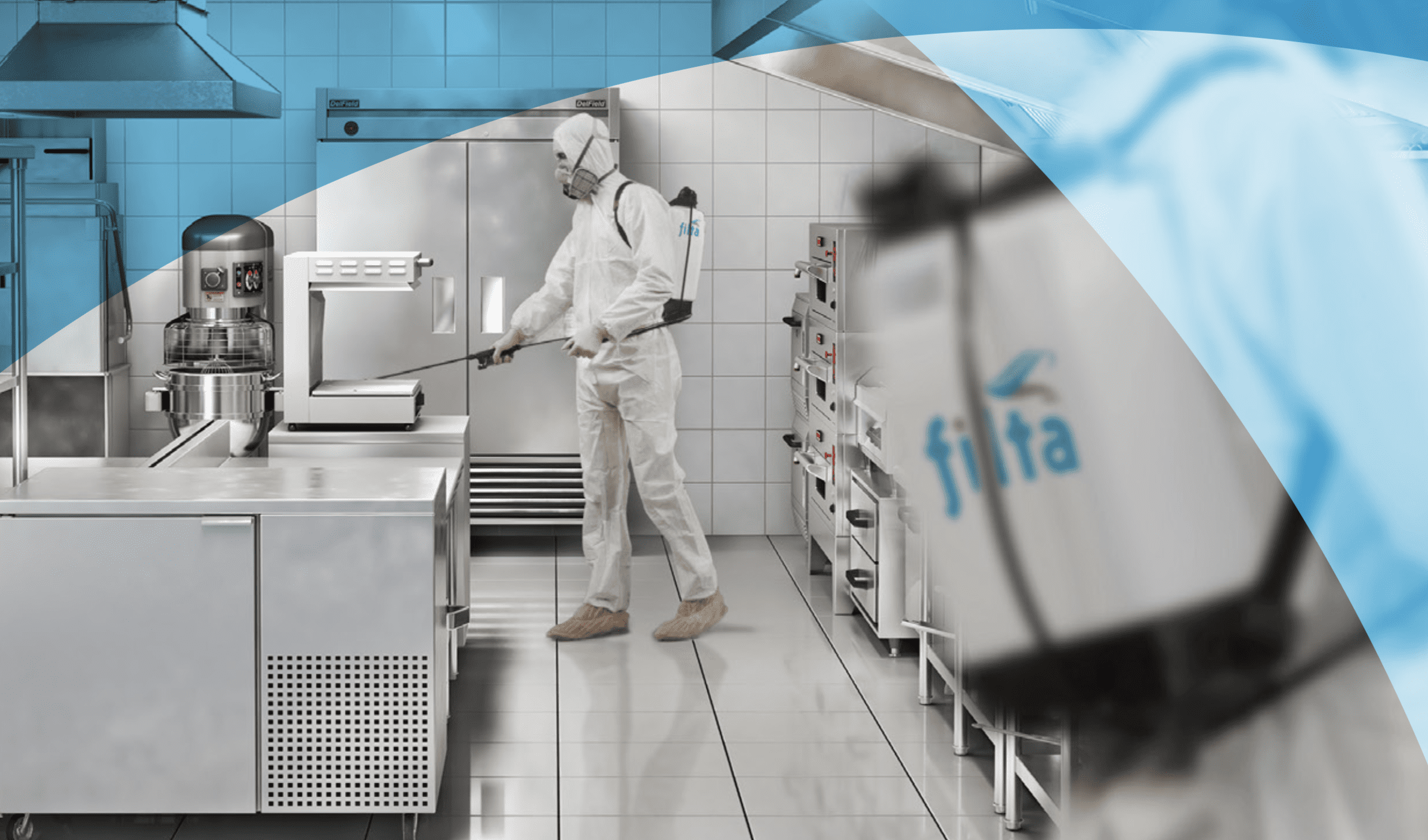 Approved COVID-19 Sanitising
Our preventative sanitisation service utilises eco-friendly, naturally derived, mild surfactants and a natural fermentation extract to produce an environmentally-responsible and sustainable sanitiser and disinfectant, ideal for providing a COVID-19 free workplace.
Kills envelope viruses in 5 minutes
Our tailored sanitisation programme
Filta provides a tailored sanitisation programme benchmarking your premises back down to a 0.01% level of contamination. Our technicians are specially trained in identifying at-risk areas in your premises and will spray a light mist of all-purpose sanitiser paying particular attention to any specific touchpoints also known as "high-touch areas".
A trained technician will then educate your employees on how to keep your restaurant sanitised and leave a tailored "antiviral maintenance pack" of our all-purpose sanitiser. Alternatively, we will arrange for a Filta technician to regularly visit your premises to continually reduce the risk of infection.
* Please note that our service is not limited to restaurants and we provide a range of businesses with effective COVID-19 sanitising services.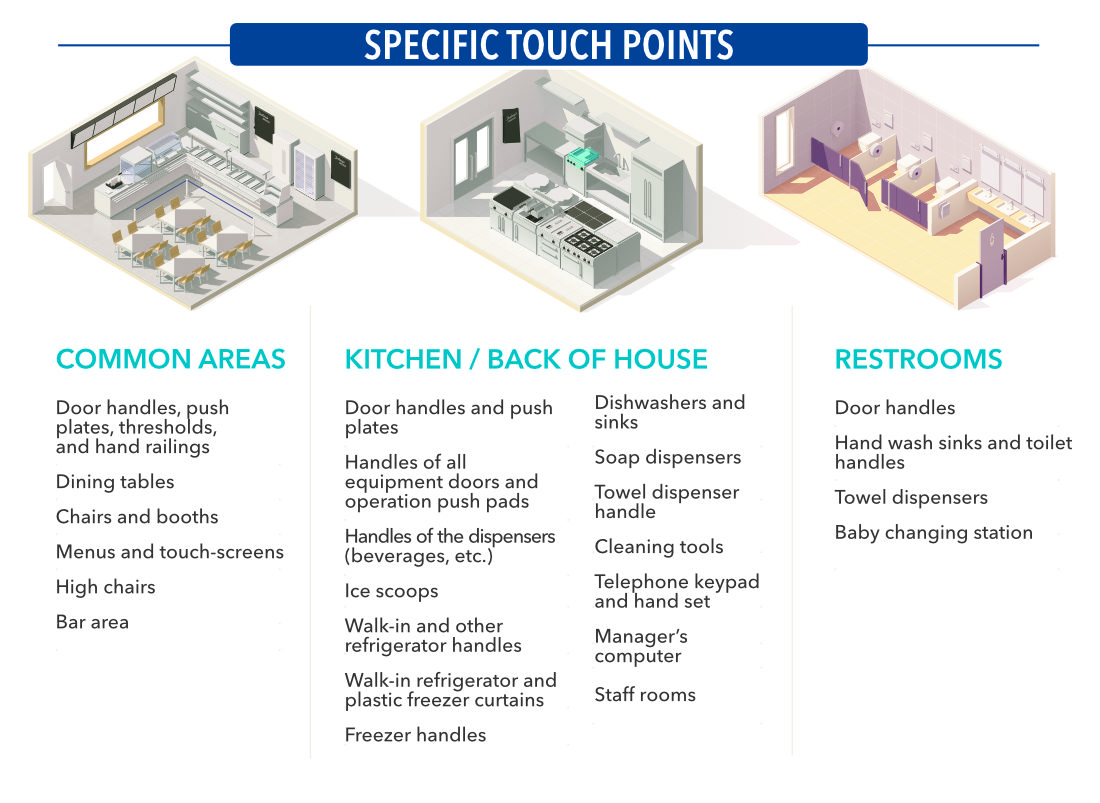 Coronavirus Sanitising Service in 3 Quick Steps
Our nationwide fleet of technicians are ready to sanitise and disinfect your premises with our laboratory tested and approved solution which is effective against all enveloped viruses as defined in EN 14476:2013 + A2:2019. Including all coronaviruses and 2019-nCoV/ SARS-CoV-2 as well as a wide range of microbial species.
The product has multiple modes of action:
Damages outer membranes, causing leakage of cell contents
Attacks other cell structures, proteins and DNA
Prevents protein synthesis
Arrests energy production by the cell
This is achieved in three simple steps:

Spray
A Filta technician will arrive on-site and spray your entire premises with a fine mist of our COVID-19 sanitising solution. The solution has a quick 5 minute wait time also known as the "kill time".

Wipe-down
The technician will then wipe-down any high-touch areas such as door handles and railings. The solution kills, destroys and eliminates household germs and COVID-19.

COVID-19 FREE
The solution is colourless with a near odourless scent allowing your business to operate as normal. Our technician will leave behind a sheet with the date of last visit, areas cleaned and our contact details.
Do not jeopardise your business, staff and client health by taking the risk of spreading dangerous bacteria and viruses, such as the Coronavirus.
Download our antiviral sanitising service brochure today and protect your environment, staff and customers from the coronavirus!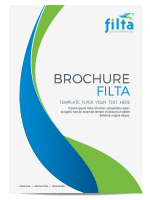 The ingredients in our specially developed all-purpose sanitiser work in synergy to kill, destroy and eliminates 99.99% of germs. The solution does not need to be rinsed, even on food contact surfaces.
Our technician will arrive on-site and thoroughly spray your entire premises with a fine mist from a backpack pumped pressure sprayer. Specific touchpoints are then given particular attention to ensure removal of COVID-19 or any other or any other envelope viruses.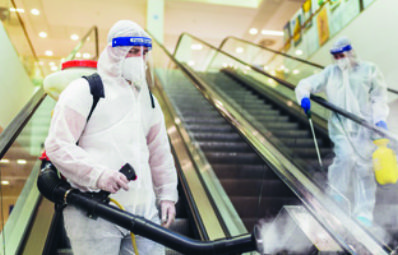 High Touch Areas Include:
Door handles and push plates

Dining tables, chairs and booths

Menus and card machines

The handles of all equipment

Restrooms and baby changing areas

Staff rooms and employee equipment
FiltaShield sanitiser is produced locally in the UK. The solution is also readily biodegradable and is highly concentrated to reduce plastic, transport and storage costs and environmental impact.
All ingredients used are renewable and sustainably sourced from plant extracts, fermentation, microbes and manufacturing by-products reducing CO2e and environmental toxicity. All the ingredients are raw materials and are excluded from the 'watch list'. The product has not been tested on any animals.
Post Consumer: The recycled bottles provide a circular life cycle reducing CO2e and removing physical plastic pollution.
Do you need some expert help with a COVID-19 cleaning solution? If so, fill in the below and we'll get back to you asap!
By submitting this I agree that Filta can use the information provided on this form in accordance with their
privacy policy.