Preventing FOG Build Up in Arenas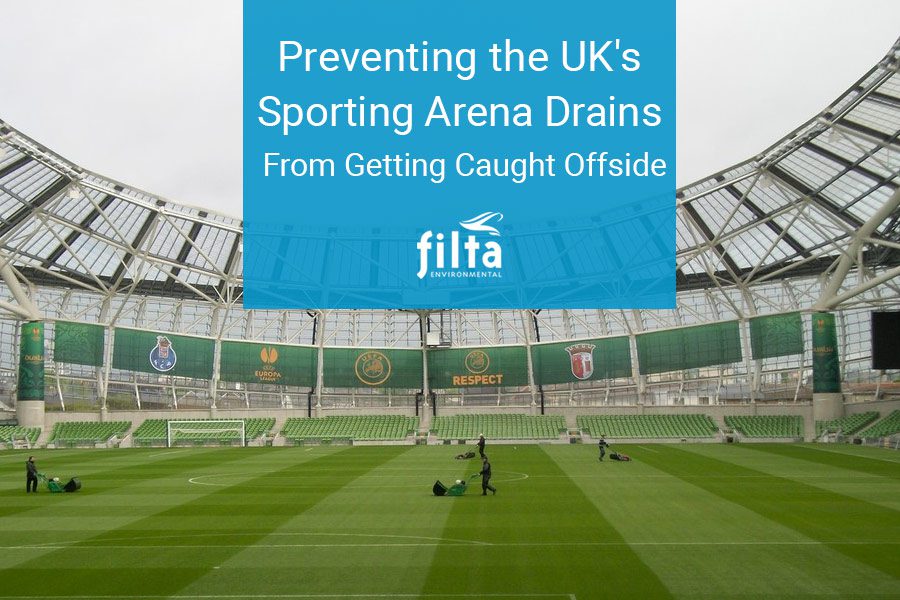 It is thought that more than 70 percent of drain blockages within commercial kitchens are caused by the build-up of fats, oils and grease (FOG) generated from rotisserie ovens, dishwashers and the washing up of cooking trays, plates, pots and pans. We believe that is 70 percent of blockages which can be prevented by either better grease management systems or properly maintained equipment with good housekeeping practices.
Best Practices To Prevent FOG Build Up in Arenas
To ensure that sports and leisure catering establishments abide by the correct
waste legislation
and are able to deal with grease and oils appropriately, we have put together a list of tips and best practices to prevent your sites drains from getting caught offside.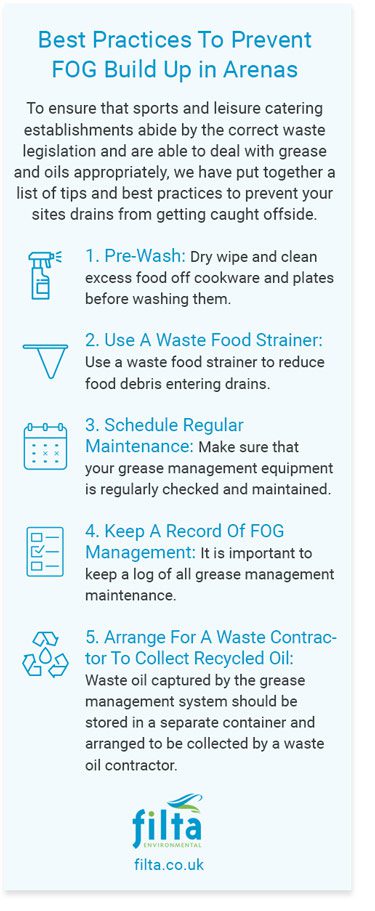 1. Pre-Wash
Dry wipe and clean excess food off cookware and plates before washing them and dispose of food waste with other solid waste. This will greatly reduce the amount of FOG going into your grease management solution and ensure it functions more effectively.
2. Use A Waste Food Strainer
Food debris can quickly build up in the drains restricting the wastewater flow. By using a waste food strainer, you can prevent even small grains of rice entering the drain. Food collected in the strainer must then be emptied into a rubbish bin.
3. Schedule Regular Maintenance
Make sure that your grease management equipment is regularly checked and maintained according to the operating instructions. Certain products require daily or weekly actions to be carried out by staff in addition to the routine servicing by our grease management specialists.
4. Keep A Record Of FOG Management
It is important to keep a log of all grease management maintenance and routine actions by staff, problems encountered, and work carried out by professionals as this will help you fine tune your grease management processes and optimise your service intervals.
5. Arrange For A Waste Contractor To Collect Recycled Oil
If your kitchen has an automatic grease recovery unit (GRU) installed, it is vital that your employees are using it correctly. Never tip the waste oil collected in the oil cassette back down the drain. Instead the waste oil captured by the grease management system should be stored in a separate container or drum and arranged to be collected by a waste oil contractor. Certain GRU's such as the GreaseMaster, has minimal water content and is suitable for use in the production of biodiesel, making it a very sustainable solution.
Innovative Grease Management Solutions for Over 20 Years
At Filta, we have been at the forefront of innovation in grease management for over 20 years and have evolved with the market and water company requirements. As an established team of grease management experts, we are the leading choice for commercial kitchen FOG solutions in the UK.
A Tailored FOG Management Solution For Your Needs
Years of experience has taught us that no two sites are ever the same. For this reason, we don't subscribe to a "one size fits all" solution for grease management. Our preferred method of business is to complete a site survey before we recommend equipment or a comprehensive maintenance schedule. This allows us to tailor a service that in our best judgement is ideal for your particular needs and circumstances whether your catering is situated within a local leisure centre, large sporting stadia and arena, casino, gym, racecourse or any other sports & leisure catering establishment.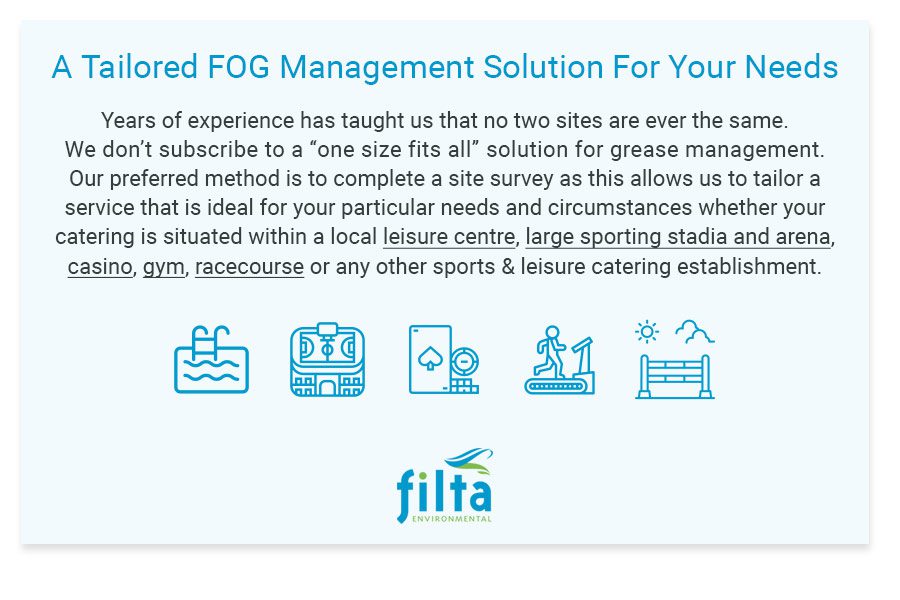 Providing A FOG Service, Not Just Products
Our grease management proposition also offers a crucial advantage over our competitors. We do not align ourselves with a particular product or grease management system, therefore priding ourselves on providing a service and not just a range of products. With solutions designed to suit your specific requirements, our grease experts will install a grease management system that suits your specific circumstances, needs, and budget. We'll also help you determine the most effective service and maintenance schedule for your situation.
Commercial Kitchen Specialists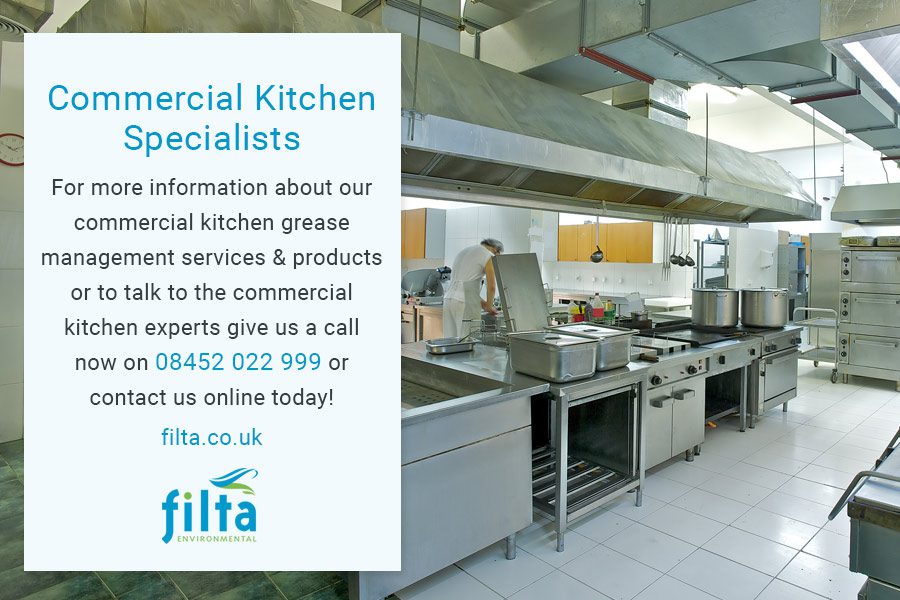 For more information about our commercial kitchen grease management services and products or to talk to the commercial kitchen experts give us a call now on 08452 022 999 or contact us online today!

Source: Sports Leisure Catering Magazine (SLC August 2019 p14-15)